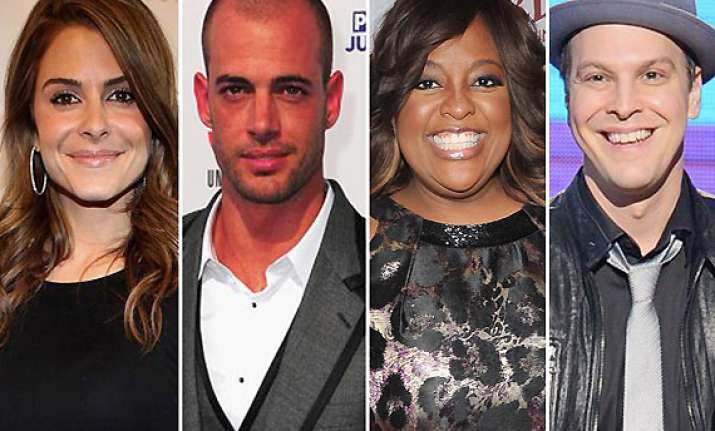 Los Angeles, Mar 7: The premiere of "Dancing with the Stars" 14th season is just two weeks away and the contestants are already gearing up for the competition.

Singer Gavin DeGraw, who is paired with last season's pro champ Karina Smirnoff, says he may know a thing or two about music but that does not mean he can dance.

"Let's be real. I don't dance, man, you know?" said DeGraw during a round of promotional interviews. "I'm trying to be I'm trying to be as realistic about this as possible. I have no dance background. There was a guy that taught dance in my family three generations ago but that has not been passed down. He's like a legend in the family in the Catskills like Patrick Swayze and 'Dirty Dancing.' Just one of those cool, little stories. I've got pictures of him and they're up on my dining room wall, you know? That's all the background I have in dancing."

Maria Menounos has an advantage going into the competition because her partner is three-time champ Derek Hough. Still, Menounos, who co-hosts the show entertainment show 'EXTRA,' says she's already feeling the pressure.

"Everything scares me. You know, you have Mario Lopez who is my co-host on EXTRA who came in second in this competition so everyone's like, 'Ooh, you've got to beat Mario and like him (Derek Hough) whose won three times and is you know, the champ and then there is me and I definitely think I'm a project player like I have a lot of work to do so I'm really scared I don't want to let him down, I don't want to let the show down, I don't want to let the Bostonians down, I don't want to let the greeks down, I don't want to let the WWE down and all like my different factions of my life who are like cheering me on and rooting for me so we're gonna just have to scam, lie and cheat. (laughs.)"

Jack Wagner, known for both his music in the 1980's and for his roles on shows like "General Hospital", "Melrose Place" and now "Bold and the Beautiful," says he's just focusing on his footwork and doubts he'll do any singing on the show.

"This is really, strictly about dance and the discipline connected to that which I loved so I don't think singing is going to be a part of this show. For me anyway."

Other contestants who will compete on the 14th season of "Dancing with the Stars" include pro football player Donald Driver, Jaleel White who played the famous nerd Steve Urkel on the sitcom "Family Matters" and Welsh Mezzo Soprano singer Katherine Jenkins.