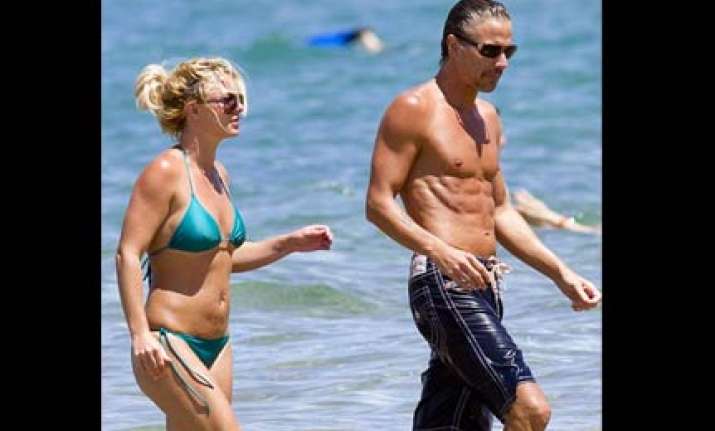 Singer Britney Spears got  over amorous as she put on a public display of affection with boyfriend Jason Trawick while holidaying in Hawaii together, reports The Daily Mail, London
At one point the singer looked in danger of losing her bikini top, which appeared to have come undone as she wrapped her legs around her other half.
In any case the green two piece looked slightly on the small side, with the 28-year-old pop star showing neathage (or under cleavage).
After taking a dip, the love-struck duo shared a romantic stroll along the beach, walking hand in hand.
On Wednesday they enjoyed another beach trip, with Britney unveiling her toned beach body after managing to get her dancer's legs back in just two weeks.
Her boyfriend Jason, 44, was also looking in good shape, and showed off his washboard stomach in a pair of boarding short.
He cut a very different image to that of Britney's ex and father of her two children, former dancer Kevin Federline, who was pictured looking bigger than ever in Miami. Britney, however, has managed to turn things around lately and got back in shape - probably spurred on by the recent gust slot she filmed in hit TV show Glee.
Security was bumped up on the LA set when she went to film her part to avoid details being leaked. 'It was literally like the President had come,' series' creator Ryan Murphy told E!Online of the pop star's visit. We all had to wear wristbands. I couldn't get into my own sets at one point, which I thought was hilarious.  Everybody was sort of trying to get into the set and find out what the hell she's doing in the episode.'
The pop princess is said to be making her appearance in episode two of the second series of Glee, in an instalment entitled Britney/Brittany.
She reportedly appears in the ether-induced fever dreams of the Glee club members after they visit the local dentist.
At least six Britney songs are understood to feature in the hotly-anticipated episode.  
The star has also been hard at work recording new material, recording her follow-up to her 2008 album Circus.
That had a fraught gestation, as it followed her very public breakdown in February 2007 when she shaved her head, as well as her spell on a mental health ward in January 2008.
And after a police raid, she her lost  custody of her children, Sean Preston, four, and Jayden James, three.
Since then, Britney has found stability with boyfriend Jason despite ditching him as her manager after completing fifth highest grossing tour of 2009 with Circus show.