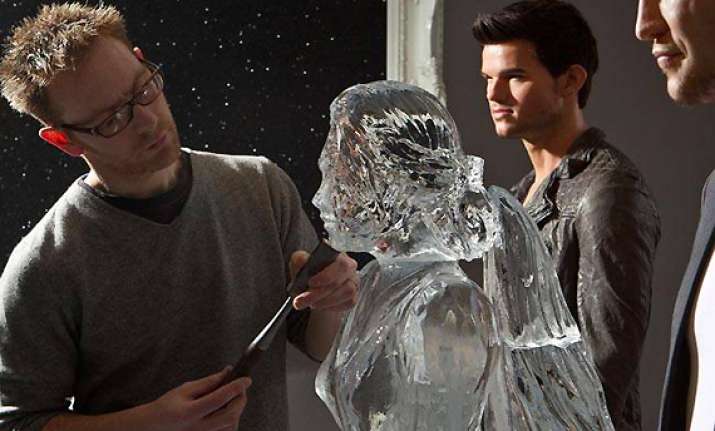 London, Mar 12: Madame Tussauds in London put a new sculpture on display but this time it wasn't made of wax.

To celebrate the DVD release of "The Twilight Saga: Breaking Dawn - Part 1" the tourist attraction is featuring a likeness of main character Bella Swan, played by Kristen Stewart, that has been carved from ice.

The sculpture will be on display between wax figures of Stewart's two co-stars.

"We were really excited that we could have Bella Swan here and she's just going to be here for two days alongside R-Patz (Robert Pattinson) and Taylor Lautner, so we're really looking forward to having 'Twilight' fans come down and see her," said Madame Tussauds spokesperson Liz Edwards.

It is the first time that an ice sculpture has gone on display at the waxwork museum and Edwards admits that it's no easy task.

"Ice will melt and we've got lots of lights here, so we do expect the sculptures to look better in the morning than come the afternoon but we're going to keep the area cool and the artistry is so fantastic from the sculpture we're sure the fans will come and love seeing Bella Swan alongside the two gentlemen anyway."

But if 'Twilight' fans were hoping that the ice Bella would be a pre-cursor to a more permanent wax version, they may be disappointed.

"She is one of the most requested figures we do have but that's alongside other very famous and requested celebrities, so there's no plans as yet but fans have been requesting her a lot so hopefully they will love the fact they can come and see her here for a couple of days and we'll see what happens from there," said Edwards.

The Bella Swan ice sculpture will be on display at Madame Tussauds in London on 12 and 13 March 2012.