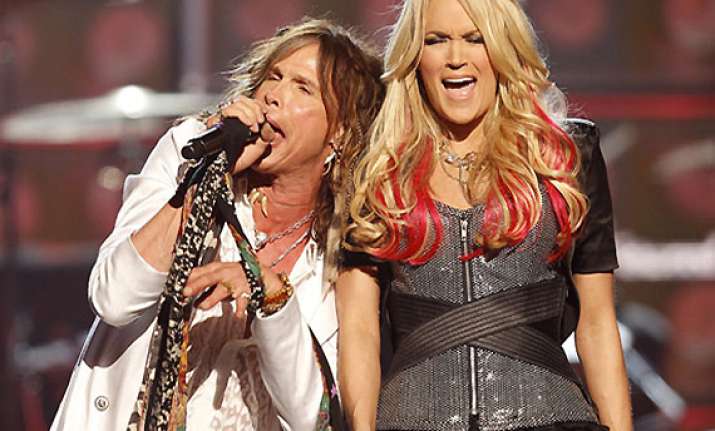 Indianapolis, Feb 4: It was idol meets idol as "American Idol" judge Steven Tyler and past "Idol" winner Carrie Underwood teamed-up during Super Bowl festivities.

The duo came together to perform for Country Music Television's "Crossroads" series which brings singers from different genres together to perform.

Underwood and Tyler are set to put on a concert on Saturday night (4 FEB. 2012), but were happy to answer questions after a rehearsal on Thursday.

I just love to sing and I love her stuff," Aerosmith frontman Tyler said of Underwood.

"A good friend of mine writes songs with her. When I heard 'Undo It,' I asked my friend that I write songs with, 'What is that? That is an Aerosmith song, right? I am going to finish writing that with you.' He goes, 'No, no, I wrote that with Carrie, and it's coming out in a week.' It was one of those, one of those moments. And then I met her and it was all over after that, once I looked into her eyes, I was like, 'please.' Then she opened her mouth and sang and she is that good, I just loved singing with her."

Tyler may be a judge on one of America's most popular shows, but it was he who was harshly judged by many Americans after singing the national anthem at a recent football game.

Some said he was off pitch and off key.

Tyler said he does not understand why some people did not like his rendition of the honored song. "I don't know, as I said before, I put emphasis on, (singing)'...in the land of the free' and I went up an octave higher," Tyler explained.

"Oddly enough I actually hit the note so I don't know what they are talking about. But I emphasized free which was for freedom. It was well thought out prior to, I wasn't messing with American tradition, I am American, I am proud of it and I am most proud that we are free because I have been all over the rest of the world and they are not in so many places. Freedom means a lot."

All in though, he's not too worried about the criticism, "I nailed that note and you know what, if they don't like it, too bad," he concluded.

Underwood was ready to tackle some other misconceptions.

She's married to professional hockey player Mike Fisher, but says she is not rooting for the New England Patriots or the New York Giants in Sunday's game.

"We don't really get competitive," Underwood said when speaking about her husband.

"He is Canadian so I have had to switch his focus from so much hockey to a little football because we watch a lot of hockey. Which I love watching him and I love watching the Predators but there's 30 teams and I can't keep up with them all. But no, we're not competitive on stuff like that."

The recently-engaged Tyler added that he did not plan to party too much during Super Bowl weekend, calling himself a "homeboy."