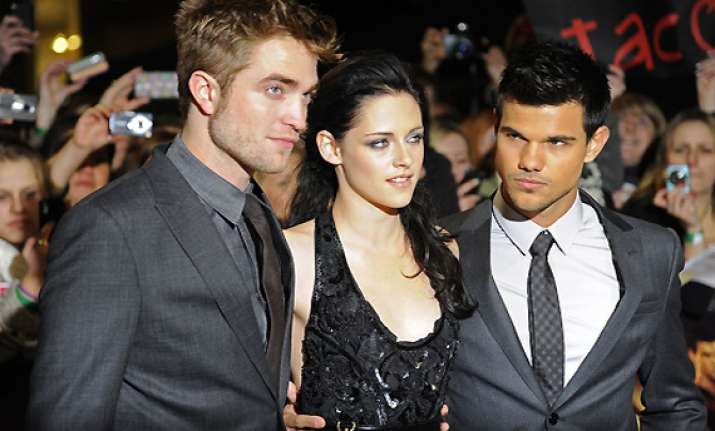 Berlin, Nov 19: "The Twilight Saga: Breaking Dawn - Part I" premiered Friday (18 Nov'2011) in Berlin. Several thousand fans came to see stars Robert Pattinson and Taylor Lautner.

They waited for hours in the cold hoping to get an autograph from both actors. Lautner and Pattinson greeted fans upon arrival before walking the red carpet and talking to the media.

Berlin is the last stop in the film's promotional tour, which among many cities visited Los Angeles, London, New York, Rome and Barcelona.

Pattinson admitted he's exhausted right now and happy that the tour is ending.

"I don't know, I mean it's still quite overwhelming," he said, "I mean you're just going to, (I) think it's lucky it's the last day because I'm kind of run out of energy now... this is my... this is my last burst of energy."

Pattinson's girlfriend Kristen Stewart wasn't able to attend the Berlin premiere. She is already shooting a new movie and couldn't join the team in Berlin.

"It's always nice to have her and the rest of the cast," he said, "for one thing it splits the energy up. You don't have to do everything yourself, but it's annoying that she can't be here. I know she really likes Germany as well."

Taylor Lautner was impressed by his fans in Berlin, who welcomed him and Robert Pattinson with loud screaming.

"It's amazing, I think," he said. "You can hear the fans it's unbelievable. It's great to be back and see the fans."

"The Twilight Saga: Breaking Dawn - Part 1" opens in Germany on 24 November. It is already playing in most of the world.