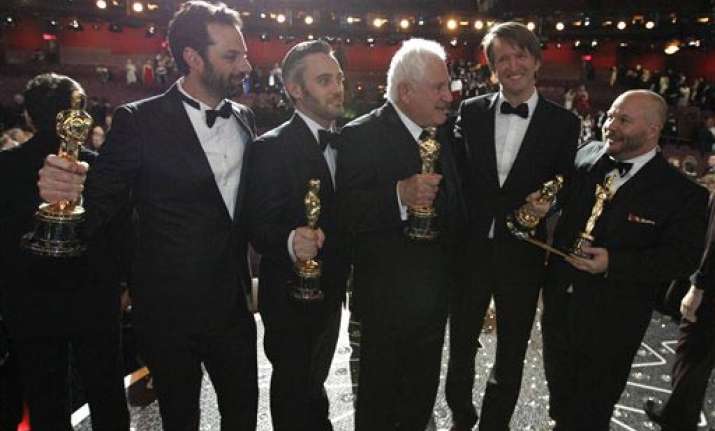 Los Angeles, Feb 28 : British drama 'The King's Speech', about George VI's struggle to overcome his stammer,walked away with four major Oscars including the Best Picture,Best Director and Best Actor at the 83rd Academy Awards.
On a night, which had no big surprises, the period drama beat out competition from nine other films to be crowned the Best Picture, also won an Oscar for David Seidler in the Best Original Screenplay category.
Directed by Tom Hooper, the Colin Firth starrer is about the British Monarch, who overcame his stuttering problem with the help of an unorthodox Australian speech therapist, to rally the nation through World War II.Hooper thanked his mother for finding him the script for the movie after she was invited to a play reading.
"She's never been invited to a play reading her entire life before. She almost didn't go because it didn't sound exactly promising, but thank God she did. She rang me up after, said, Tom, I think I found your next film," said the director.Firth, popularly known as Mr Darcy since his 'Pride & Prejudice' days, started his acceptance speech by joking about how the award will help his career. 
"I have a feeling that my career just peaked," the 50-year-old actor said.Firth said that he feared that he may make a fool of himself by dancing onstage."I'm afraid I have to warn you that I'm experiencing stirrings, somewhere in the upper abdominals, what are threatening to form themselves into dance moves," he said.
"These urges joyous as they may be for me... would be extremely problematic if they make it to my legs before I get off stage," he added.The movie's screenwriter, David Seidler, used his acceptance speech to jokingly thank Queen Elizabeth II, among others, as well as stutterers everywhere."...I accept this on behalf of all the stutterers throughout the world. We have a voice, we have been heard," he said, repeating the key phrase from the movie.
Nominated in 12 categories, the film was pitted against Facebook movie 'The Social Network', which was in the race with 7 nominations.The David Fincher movie, however, managed to win trophies in three categories -- Best Adapted Screenplay, Original Score and Editing.
Christopher Nolan's hi-tech thriller 'Inception' matched 'The King's Speech' in the number count by bagging four Oscars in technical categories like Best Cinematography, Sound Mixing, Sound Editing and Visual Effects.
Natalie Portman won best actress for her role in disturbed ballerina in Darren Aronofsky's dark thriller 'Black Swan'.An emotional Portman thanked everyone from her family,friends and fiance Bennjamin Milleipied to the make-up and cameraman of her film.
Boxing drama 'The Fighter' won two Oscars—best supporting actor for Christian Bale, and best supporting actress for Melissa Leo, who had both been frontrunners in
their category. PTI