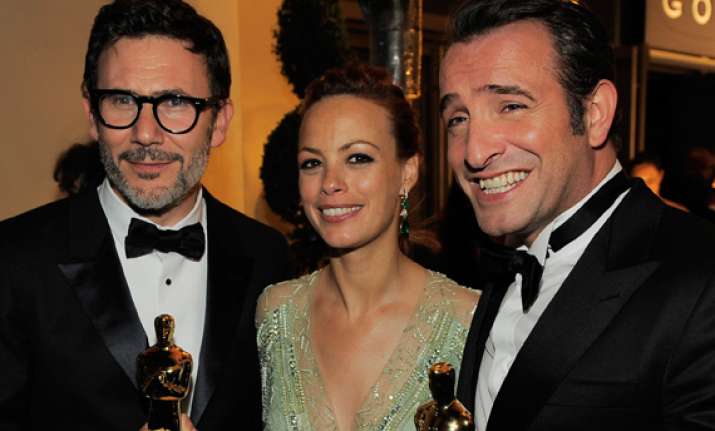 Los Angeles, Feb 27: The silent film "The Artist" has dominated this year's Academy Awards ceremony in Los Angeles, winning five Oscars including best picture.

It is the first silent film to triumph at Hollywood's highest honours since the original Oscar ceremony 83 years ago.

Among other prizes for the black-and-white comic melodrama were best actor for Jean Dujardin and director for Michel Hazanavicius.

The other top Oscars went to Meryl Streep as best actress for "The Iron Lady," Octavia Spencer as supporting actress for "The Help" and Christopher Plummer as supporting actor for "Beginners."

"The Artist" is the first silent winner since the World War I saga "Wings" was named outstanding picture at the first Oscars in 1929.

Dujardin became the first Frenchman to win an acting Oscar for his role in the movie.

French actresses have won before, including Marion Cotillard and Juliette Binoche.

"Thank you. Oui. I love your country!" said Dujardin, who plays George Valentin, a silent-film superstar fallen on hard times as the sound era takes over.

Hazanavicius said he was "the happiest director in the world," and thanked the cast, crew and canine co-star Uggie.

Claiming Hollywood's top-filmmaking honour completes Hazanavicius' sudden rise from popular movie-maker back home in France to internationally celebrated director.

Hazanavicius had come in as the favourite after winning at the Directors Guild of America Awards, whose recipient almost always goes on to claim the Oscar.

The other wins for "The Artist" were musical score and art direction.

Martin Scorsese's Paris adventure "Hugo" also won five Oscars, all in technical categories.

Streep's win was her first Oscar in 29 years, since she won best actress for "Sophie's Choice."

She had lost 12 times in a row since then. Streep also has a supporting-actress Oscar for 1979's "Kramer vs. Kramer."

"When they called my name, I had this feeling I could hear half of America going 'Oh no, oh come on, why? Her. Again?' But, whatever," Streep said, laughing.

Streep is only the fifth performer to receive three Oscars. Jack Nicholson, Ingrid Bergman and Walter Brennan all earned three, while Katharine Hepburn won four.

It was a night that went as expected, with front-runners claiming key prizes.

The biggest surprise may have been the length of the show, which clocked in at about three hours and 10 minutes, brisk for a ceremony that has run well over four hours some years.

The 82-year-old Plummer became the oldest acting winner for his role as an elderly widower who comes out as gay in "Beginners."

"You're only two years older than me, darling," Plummer said, addressing his Oscar statue in this 84th year of the awards. "Where have you been all my life?"

The previous oldest winner was best-actress recipient Jessica Tandy for "Driving Miss Daisy," at age 80.

Completing an awards-season blitz that took her from Hollywood bit player to star, Octavia Spencer won for her role in "The Help" as a headstrong black maid whose willful ways continually land her in trouble with white employers in 1960s Mississippi.

Spencer wept throughout her breathless speech, in which she apologised between laughing and crying for running a bit long on her time limit.

In a humble speech amid tense times, Asghar Farhadi accepted Iran's first Oscar for best foreign film as a chance to celebrate his country's culture.

The acclaimed domestic drama "A Separation" is the first Iranian film to win the award.

The only other Iranian movie ever nominated was 1997's "Children of Heaven," which was defeated by Italy's "Life Is Beautiful."

Writer-director Farhadi alluded to the tensions over his home country, with his daughter, Sarina Farhadi, who co-stars in the film, looking on from the audience.

"I proudly offer this award to the people of my country, the people who respect all cultures and civilisations and despise hostility and resentment," he said.

Tensions between the West and Iran have risen in recent months over Tehran's nuclear programme.

Iran denies Western claims that it seeks to develop atomic weapons, and says its disputed nuclear programme is designed to produce energy and medical isotopes.

Iranian cinema has for years been among the most exciting in the world, notably including the films of Abbas Kiarostami and Majid Majidi.