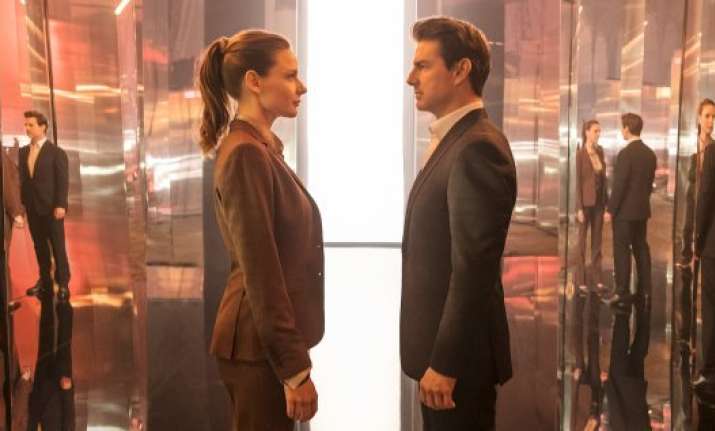 The makers of Mission Impossible: Fallout, Paramount Pictures and Skydance have dropped a new trailer of Mission Impossible 6. The trailer promises a high-octane sequel to an already superhit MI franchise. Director Christopher McQuarrie, who had helmed Mission Impossible- Rogue Nation, reprised his duty as a director for this sequel as well. In the two-minute clip, one can see Ethan Hunt aka Tom Cruise acing the action sequence as he faces the consequences of IMF's past good deeds.
Mission Impossible: Fallout brings franchise's favourite Michelle Monaghan and Simon Pegg back and also brings new characters played by Henry Cavill and Angela Bassett on silverscreen. McQuarrie's MI is expected to wash out the after-effects of CG-loaded blockbusters since Tom Cruise has sweated out a lot to bring those eye-popping stunts to life on the silverscreen.
The trailer starts with the transportation of Solomon Lane, who was captured at the end of Mission Impossible: Rogue Nation. He is seen delivering a blood-curdling one-liner which hints towards something ominous that's bound to happen later. He says, "There cannot be peace without first a great suffering. The greater the suffering, the greater the peace."
The trailer also gives us a brief glimpse of Tom Cruise's window jumping stunt, which saw him leap across two buildings in London's financial district.
One of the stunts in MI horribly went wrong. Talking to Graham Norton, Tom Cruise told, "'I'm wearing two wires, they're just safety wires because I go to full tilt and I'm sprinting as hard as I can and I hit the side of the wall.
'That's the stunt. I hit the side of the wall... and then I climb up on the wall and was meant to pull myself over but the mistake was my foot hitting the wall. I knew instantly my ankle was broken and I really didn't want to do it again so just got up and carried on with the take.
'I said, "It's broken. That's a wrap. Take me to hospital" and then everyone got on the phone and made their vacation arrangements.'
Watch the Mission Impossible 6 trailer. The films also feature Ving Rhames, Vanessa Kirby, Alec Baldwin, Wes Bentley and Frederick Schmidt in pivotal roles. It is slated to release on July 27th this year. Mark the date on your calendar!