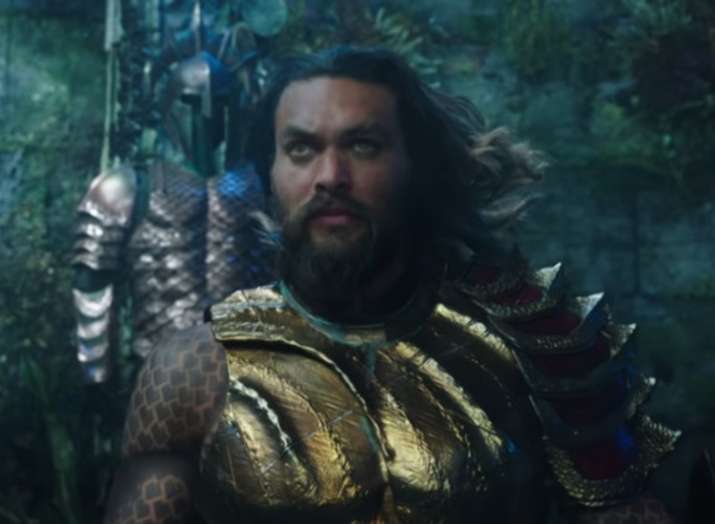 Game of Thrones star Jason Mamoa unveiled the power-packed trailer of 'Aquaman' and it is an awesome water ride. The first trailer for the anticipated superhero film debuted at the 2018 San Diego Comic-Con panel on Saturday.
The trailer discovers Jason as the heir to the underwater kingdom of Atlantis, as he is part human and part Atlantean. He then steps forward to lead his people and to stop his evil half-brother, the villain Ocean Master, played by Patrick Wilson, who wants to turn Earth into an underwater world.
See the new #Aquaman trailer now. In theaters December 21. pic.twitter.com/F6IKAsuey6

— Aquaman Movie (@aquamanmovie) July 21, 2018
Momoa had first played Aquaman in a cameo role in 'Batman v Superman: Dawn of Justice' and reprised the part in 'Justice League'. Talking about the film, director James Wan revealed in an interview earlier, "I wanted to create a superhero film that we've never quite seen before," Wan said. "I wanted our film to be more unique. So my movie plays more like a science-fiction fantasy film than a traditional superhero movie."
Abdul-Maten II revealed that he didn't know how to swim when he got the role of villain Black Manta. "I taught myself in the mornings and evenings. I bought goggles, a kickboard, and swam at the hotel pool." Ironically, in the end, because much of the work was on wires and in harnesses, he didn't need to swim.
The new #Aquaman trailer just got a huge response but the Hall H-exclusive SECOND trailer @creepypuppet just surprise-dropped is even better IMHO #sdcc pic.twitter.com/h3ibCIIcet

— jen yamato (@jenyamato) July 21, 2018
The movie also stars Nicole Kidman, Amber Heard, Randall Park, Dolph Lundgren and Willem Dafoe. It will hit the theatres on December 21.
(With IANS inputs)