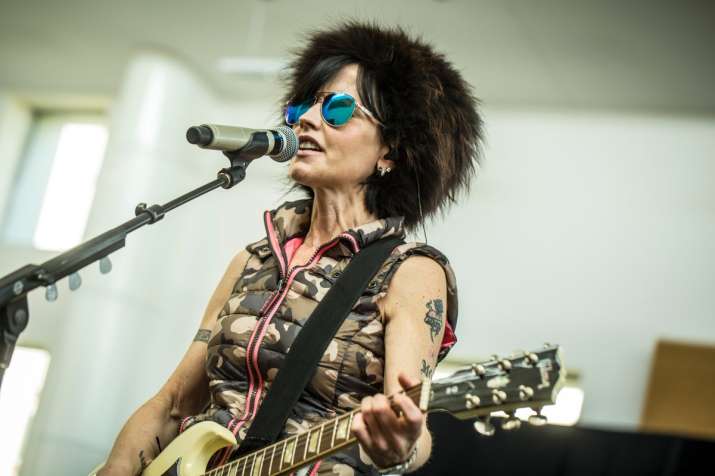 Dolores O'Riordan, the lead singer of the multi-platinum band The Cranberries, has died at the age of 46. No particular cause of death has been announced, but O'Riordan's passing was said to have been sudden with no previous signs of ill health, aside from a back problem, which forced her to cancel some shows in 2017. The Irish singer was in London for a recording session according to a statement released by her publicist. O'Riordan, 46, was in London "for a short recording session" when she died "suddenly" at a hotel, the publicist said.
"We are devastated on the passing of our friend Dolores," her bandmates tweeted. "She was an extraordinary talent and we feel very privileged to have been part of her life from 1989 when we started the Cranberries. The world has lost a true artist today."
We are heartbroken to learn that Dolores O'Riordan has passed away.

The Cranberries were my first love. Thank you for some of my favourite records of all time. I want to play a Cranberries song at tonight's show.

🌹 #Doloresoriordan pic.twitter.com/DfEk7ZXiwX

— PAWS (@wehavepaws) January 15, 2018
President of Ireland Michael Higgins also released a statement, which said, "It is with great sadness that I have learned of the death of Dolores O'Riordan, musician, singer and songwriter." The statement went on to highlight the immense success and the "immense influence" that the band had worldwide. President Higgins also recalled the first time that he heard the band, noting that he had great fondness for Delores O'Riordan and the rest of the band. He concluded his statement by saying, "To all those who follow and support Irish music, Irish musicians and the performing arts her death will be a big loss."
I'm really shocked that #DoloresORiordan has passed so suddenly
- I was talking to her a couple weeks before Christmas she seemed happy and well - we even spoke about maybe writing some songs together - unbelievable god bless her pic.twitter.com/Pk2QyAaaBw

— Dave Davies (@davedavieskinks) January 15, 2018
O'Riordan battled a bad back and other health issues last year that forced The Cranberries, which released the acoustic album "Something Else," to cancel a tour of Europe and North America. She also revealed she had been diagnosed with bipolar disorder.
Her last public words appeared to be a Tweet from Dec. 20 in which she said she was "feeling good" and performing again, and another from Jan. 3 in which she announced "We're off to Ireland."
O'Riordan is survived by her ex-husband, former Duran Duran tour manager Don Burton, and her three children, Taylor Baxter, Molly Leigh and Dakota Rain.