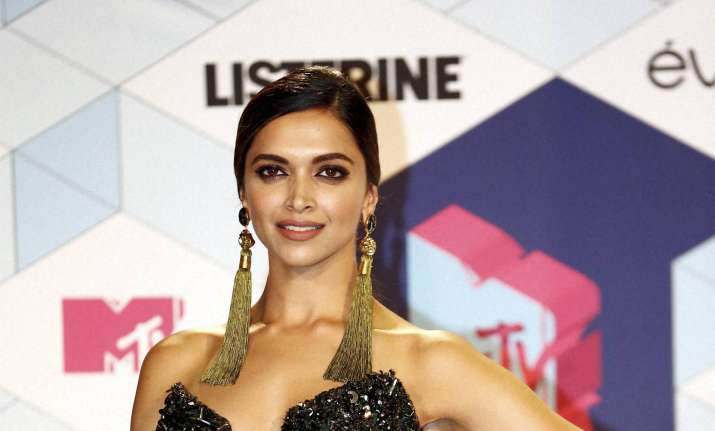 By her own admission, actress Deepika Padukone walking the red carpet at MTV Europe Music Awards 2016 was a step forward in her global career. As she painted the red-carpet green with a high-slit dress, the Bollywood diva received flak by a US daily.
A US Daily termed Deepika's choice of attire a 'Bollywood Blunder' but Indian designers have said it was far from it.
For the event, Deepika chose a Monisha Jaisingh ensemble. She wore a thigh-high slit trail skirt, in military green and olive hues, which she teamed up with an  embellished bodice and matching bomber jacket. Fringe earrings, a Balmain belt, Misho rings and black heels completed her look.
This put Deepika in the Worst Dressed Celebs by a publication which had earlier written a gossipy article about her dinner outing with tennis star Novak Djokovic. Back then, the publication has called Deepika, Novak's 'female companion', and ha drawn flak for the same.
However, Indian designers like Ritu Beri, Rina Dhaka, Anju Modi and Payal Singhal, who have dressed Deepika, said though there were too many elements in her look, it cannot be called a fashion faux pas.
Beri dismissed the criticism, saying Deepika is an "epitome of style". "Deepika is the epitome of style. She has inherent grace and elegance which she carries with her to every look she adorns. I absolutely loved her ensemble and especially the creativity with which she put it together," said Beri.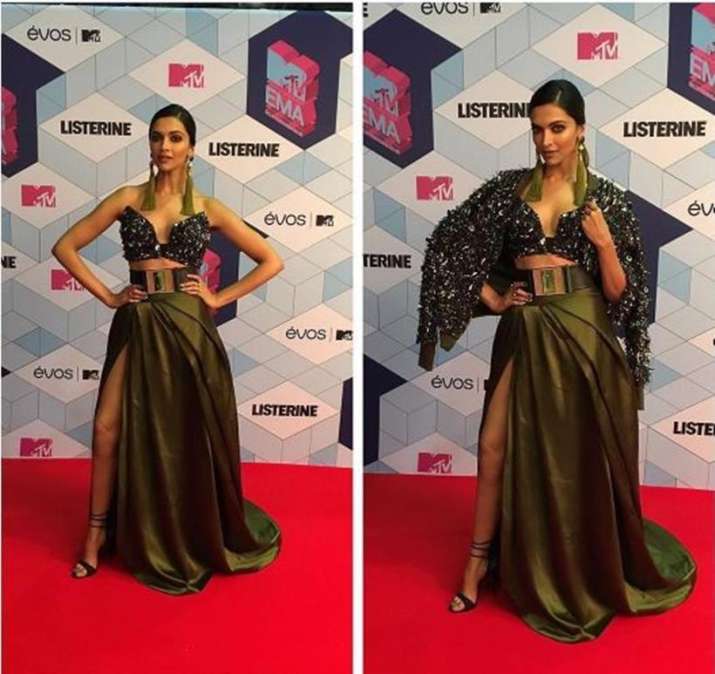 Modi, who has designed Deepika's look in "Ram Leela" and "Bajirao Mastani", said the actress always looks elegant.
"She can wear a sack, or an international designer or an Indian designer and look great as always. I liked what she was wearing. And they (international media) should understand the Indian sensibility. It is great that Deepika decided to wear an Indian designer," Modi told PTI.
Dhaka said though the look was "excessive", she loved the skirt and the bold slit.
"The top, however, I felt was a bit overpowering. It was an excessive look for me with the strong eye make-up, strong shoulders, accessories. We are used to seeing her like that here. May be it was a bit too much for the international press. But definitely the look was not a blunder," she said.
Singhal said she liked that Deepika decided to wear an Indian designer for her maiden award red carpet outing even though it was "a bit overdone".
"I have worked with Deepika and her stylist before and I think it was just a one off moment for them and she will make astriking appearance soon. I liked that she decided to wear an Indian designer but I feel that it was a bit overdone with belt, earrings and jacket.
"The criticism should be either taken in a positive stride or should be ignored completely. When you are making an appearance at an international platform where big names are coming, you try a lot and at times miss it and I guess this is what happened," Singhal told PTI.
Jaisingh, in an Instagram post, had said she opted for military green because it is a functional and strong colour."It has a tough, almost androgynous appeal for all of those women warriors out there. Deepika is unstoppable, fit and fierce; making a perfect muse for my Artemisia Gown.
The actress along with her "xXx" co-star Nina Dobrev presented the best video award to The Weeknd for "Starboy". Dobrev, Jourdan Dunn, Bebe Rexha and Winne Harlow were among the best dressed at the event. "xXx: Return of Xander Cage" will hit the theatres on January 20, 2017.
(With PTI Inputs)