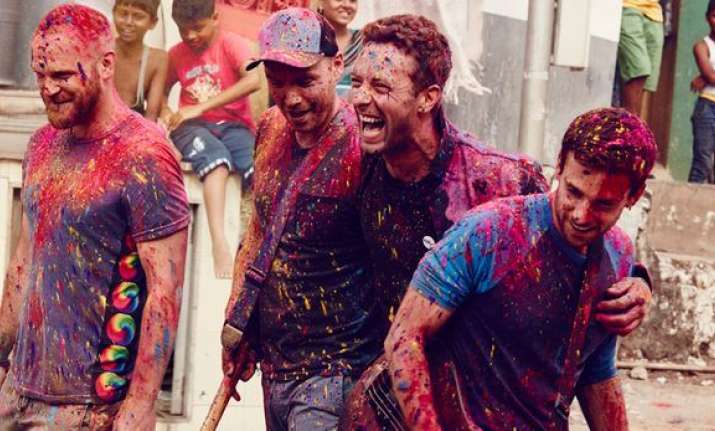 'Coldplay', the British rock band is all set to play a gig in Mumbai in November. But, that is not the reason why every other person on social media is talking about the band. The discussion is happening because of the price of the tickets.
A report published in a leading daily said that the price for the concert would be ranged from Rs 25,000 to Rs 5 lakhs. The report said that the tickets will go online on www.bookmyshow.com on September 12.
According to the tabloid, Coldplay led by Chris Martin is slated to perform for a charitable event. The frontman Martin runs Global Citizen Festival and this concert would be a part of it. Bandra grounds of the Mumbai Metropolitan Region Development Authority have been apparently booked for the show.
As soon as this news of extravagant ticket prices hit the Internet, netizens took to Twitter to share their stand on the matter, of course hilarious. From comparing Coldplay's gig to Nucleya's to quoting Coldplay's lyrics, Twitter users said it all. They even involved BMC (Brihanmumbai Municipal Corporation) after a fresh controversy was sparked by comedian-actor Kapil Sharma alleging the body asked him for a bribe.
Check out the tweets:
Looks like Coldplay is selling tickets at South Mumbai per sq. ft rate.

— Trendulkar (@Trendulkar) September 9, 2016
I think the only people who can afford tickets to Coldplay India are Kapil Sharma and the BMC.

— Daniel Fernandes (@absolutelydanny) September 9, 2016
Me: I want to buy tickets for the Coldplay concert as well as the iPhone 7.
My wallet: pic.twitter.com/gAara4UYPf

— Sahil Shah (@SahilBulla) September 9, 2016
Nobody said it was easy,
Noone ever said it would be this hard
-
Trying to buy tickets for Coldplay.

— 💯 (@Youteecrush) September 9, 2016
Pic1 -Before taking iPhone 7 n concert tickets
Pic2 -After taking iPhone 7
Pic3 -After #Coldplay concert @NumbYaar pic.twitter.com/gsTw5c6qKZ

— Niraag® S 🏏 (@niraag69) September 9, 2016
Coldplay is performing for a cause which aims to remove global poverty by 2030. 25k ki ticket mein audience hi poverty mein chali jayegi.

— Harsh Jain (@hrshjn) September 9, 2016
Rich cool people enjoying and Instagram-ing at Coldplay concert.
Me: pic.twitter.com/QoA1bNd03c

— Ushnota Paul (@journojuno) September 9, 2016
For Rs 25000 Chris Martin better go down on me after crooning Fix You solely for me nd later make gobhi ke paranthe for breakfast #coldplay

— Namelass (@DilliBelle) September 9, 2016
Coldplay enjoys a massive fan following in India. Last year, the band performed an impromptu gig in Delhi, leaving millions of fans heartbroken. At this gig Freida Pinto was in attendance too as both visited the country as a part of a Global Poverty Project Delegation.
The band returned to India in September to shoot for the video of the song 'Hymn For The Weekend'. It featured actress Sonam Kapoor.
The speculations over Coldplay performing in India started doing rounds for quite some time now. But the reports of such overgenerous prices have definitely made the fans sad.