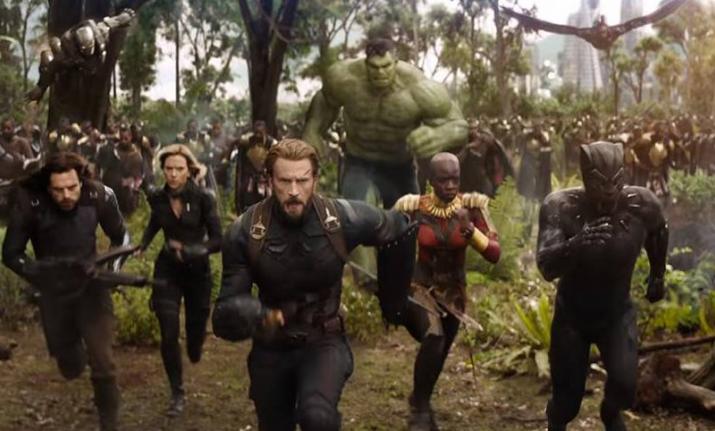 Marvel Comics' much-awaited venture 'Avengers: Infinity War' is high on the buzz word and for the fans in India, its final trailer has been unveiled and we must say it looks kickass. The new trailer has Robert Downey Jr.'s Iron Man, Chadwick Boseman's Black Panther, Chris Evans' Captain America, Benedict Cumberbatch's Doctor Strange, Tom Holland's Spider-Man, Paul Rudd's Ant-Man and the Guardians of the galaxy led by Star Lord Chris Pratt. The rest of the Avengers are there too as well as every other Marvel Cinematic Universe characters.
Marvel's "Avengers: Infinity War", which features an ensemble of superheroes, will release worldwide on April 27. The release of "Avengers: Infinity War" in the US has been advanced from May 4 to April 27. The movie was earlier scheduled to release in India one week before the US, but with the date shift the film will open on the same date.
Watch the new Avengers: #InfinityWar trailer. Get your tickets now: https://t.co/xQsJemiGws pic.twitter.com/Pv9UmDBAsN

— Marvel Studios (@MarvelStudios) March 16, 2018
Marvel announced the news in a Twitter thread with star Robert Downey Jr.AThe date change means that the Disney tentpole will open day-and-date worldwide.
Anthony and Joe Russo returned to direct "Avengers: Infinity War", which also sees stars Downey Jr., Chris Evans, Chris Hemsworth, Scarlett Johansson, Chadwick Boseman, Tom Holland, and Mark Ruffalo reprising their roles.
In this latest instalment, the Avengers will also team up with the "Guardians of the Galaxy", led by Chris Pratt's Star-Lord.
The Russo brothers directed "Captain America: Winter Soldier" and "Captain America: Civil War", which became 2016's top worldwide grosser with $1.16 billion. Joss Whedon directed 2012's "The Avengers" and 2015's "Avengers: Age of Ultron".
The two "Avengersa films have grossed nearly $3 billion worldwide. "The Avengers" is the fifth-highest grosser of all time at $1.52 billion and "Age of Ultrona is the seventh-highest at $1.41 billion.