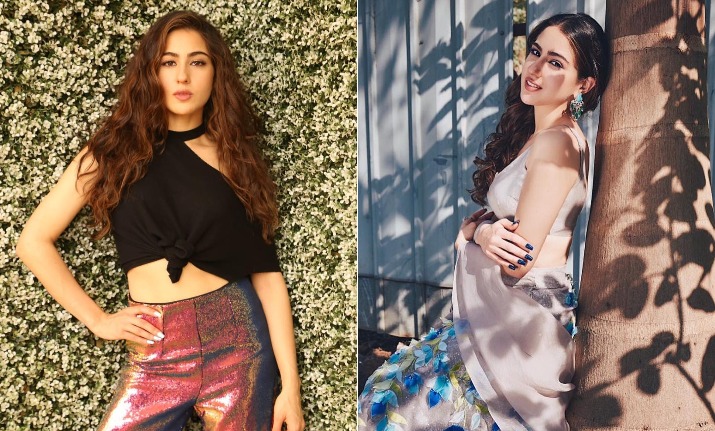 So far, Sara Ali Khan has been a pure delight to watch in her recent interviews and promotional events. The girl had been out in the daylight promoting her debut film Kedarnath and later Ranveer Singh starrer Simmba. She had been on almost every reality show and believe us, she was a total amazeballs with the way she handles the cameras. She's real, she's raw and moreover, she's just like us; a normal girl who takes life as it is. Sara Ali Khan is by far, the most real Bollywood celebrity we've seen in recent times. It won't be biased to say that Sara is a real treat to watch on screen among all the latest star kids. As she bowled us over with her performance in Kedarnath and Simmba, let's talk about why Sara Ali Khan has become the most loved star kid of Bollywood.
Sara Ali Khan is real, and faking is not her thing
Who says that? Well, Sara herself revealed in an interview to India TV that she cannot fake herself. She said that she's scared of faking that the truth might eventually come out. She credits her mom Amrita Singh for her bindass attitude. If you're lived or rummaged through Amrita Singh's active Bollywood years, she was as carefree and bindass as her daughter now is.
She wears her heart on sleeves
Sara Ali Khan has spoken her heart out on all the interviews she has been so far. On Koffee With Karan, she spoke candidly about her dad Saif Ali Khan's second marriage to Kareena Kapoor Khan. She spilled beans on how her mom Amrita Singh got her dressed up for her dad's wedding. It was really heartwarming to see Sara, who is just 23, handling the complexities of human relationships so well.
Sara's acting looks promising even before her debut
So, what if Kedarnath and Simmba have not yet released. We've seen her acting skills many of the viral videos from her college days, thanks to Koffee With Karan 6. In her episode of KWK, we got see how chubby Sara Ali Khan is lip-syncing on the song Bin Tere Sanam with utmost confidence. In one of the videos, she's enacting a death scene where her little brother Ibrahim Khan is playing dead.
In Kedarnath trailer as well, there was nowhere that Sara Ali Khan felt out of place. Sharing screen space with Ranveer Singh in Simmba trailer, she looks no less than the ace actor himself.
She's got looks to die for
Don't think Sara Ali Khan got everything easy. Her journey from fat to fit is no short of inspiration for anybody who's struggling with weight issues. During her early years, Sara was bit on a heavier side. She was battling PCOD which caused her massive weight gain. However, the actress took the matters into her own hands and shed those extra kilos. She works hard in the gym and doesn't even make any bones about being chubby in past.
Sara Ali Khan is beauty with brains
You've got to see her talking about history and Adolf Hitler on Koffee With Karan. The girl not only know how to look good but also knows how to talk right as well. Graduated from an Ivy League College, Columbia University, Sara Ali Khan is surely beauty with brains. She came to Bollywood after completing her education. In one of her interviews, she even stressed upon the importance of education before starting her film career. According to her, her academics have made her who she is today.