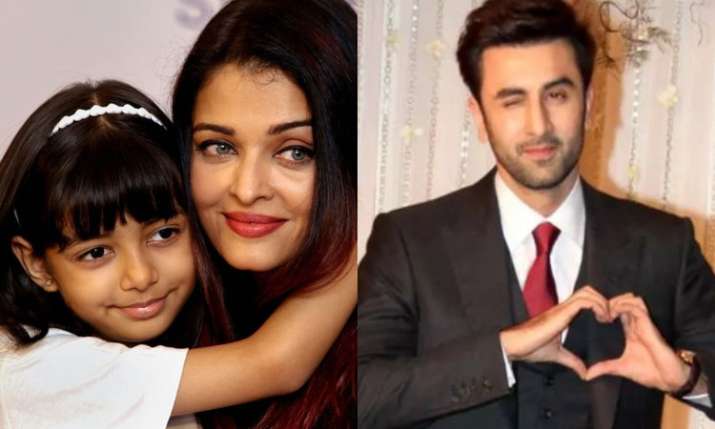 For Aishwarya Rai Bachchan motherhood is above everything. She loves her daughter Aaradhya more than anything else. We often see the actress taking her little daughter along with her to the national and international events. Today, we stumbled upon an old interview of Aishwarya to Filmare in which she talks about Ranbir Kapoor and how Aaradhya dons 'that shy expression' on seeing him.
She said that once she was having a video call with Aaradhya and the munchkin gave 'that' smile to the actor. The actress narrated a funny incident after which Aaradhya started being shy whenever the Rockstar actor is around her. ''One day she just ran into his arms. Because he was wearing this jacket and cap like AB (Abhishek Bachchan) and he had the stubble. Thinking he's AB, she hugged him and he was like 'Awww'.  Hiroo aunty (Johar) said, 'Ranbir you're a charmer'. But I understood what had happened. I asked her you thought he was Papa and she said 'Yaaa'. Since that day she's become a bit shy around him,'' Aishwarya said. The actress said that Abhishek even teased Ranbir about that.
Aishwarya said, "I told Ranbir, this is so funny. I was nuts about your father and you are the first one Aaradhya is reacting to as an actor with that shy expression. Life's come a full circle. She likes the Tamasha song Matargashti. We did the steps of the song for her fourth birthday. On the set, I introduced Ranbir as 'Ranbir uncle'. He joked, 'No RK'. Twice she addressed him as uncle. But the other day, suddenly it was RK. We all laughed at that."
Aishwarya Rai Bachchan was last seen in Fanney Khan which tanked at the box office. So far she hasn't announced her next project.