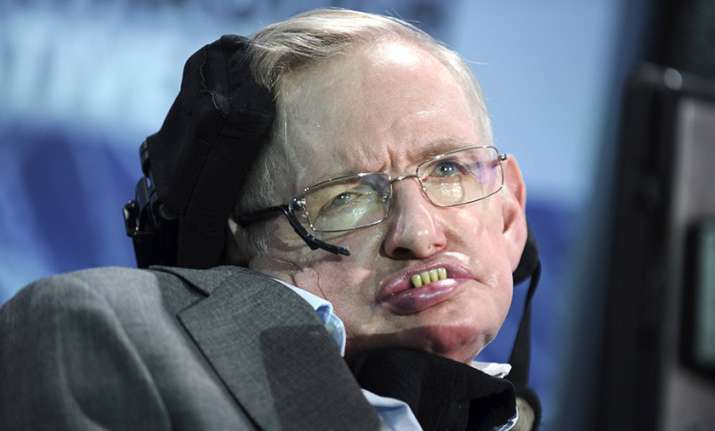 World famous British theoretical physicist Stephen Hawking died on Wednesday after complications due to amyotrophic lateral sclerosis, a progressive neurodegenerative disease. He was 76.
Professor Hawking was modern cosmology's brightest star known for his ground-breaking work with black holes and relativity. 
In the year 1963, Hawking contracted motor neurone disease and was given two years to live but he went on to study at Cambridge and became one of the most brilliant theoretical physicists since Albert Einstein. 
In 1982, Hawking was among the first to show how quantum fluctuations tiny variations in the distribution of matter might give rise through inflation to the spread of galaxies in the universe.
Hawking skyrocketed to public prominence in 1988, when he published his first general-audience book, A Brief History of Time: From the Big Bang to Black Holes. Published for the first time in 1988, the title made the Guinness Book of Records after it stayed on the Sunday Times bestsellers list for an unprecedented 237 weeks. It sold 10 million copies and was translated into 40 different languages.
Professor Hawking was honoured with numerous awards, including Adams Prize, Eddington Medal, Maxwell Medal, Heineman Prize, Hughes Medal, Einstein Award, RAS Gold Medal, Dirac Medal, Wolf Prize, Prince of Asturias, Gemant Award, Naylor Prize, Presidential Medal of Freedom and Fundamental Physics Prize. The Nobel prize, however, eluded him.
Not only this, the physicist's inspiring - and turbulent - story was dramatized in the 2014 movie "The Theory of Everything," which was based on a memoir by Hawking's first wife, Jane Wilde. Actor Eddie Redmayne's portrayal of Hawking in the film won him an Oscar for 'Best Actor'.
Hawking (documentary): 2013 brought us a biographical documentary film about Stephen Hawking, directed by Stephen Finnigan that featured Stephen Hawking himself describing his life from childhood, his struggle with amyotrophic lateral sclerosis and his later recognition as a world-famous scientist.
Hawking is a BBC television film about Stephen Hawking's early years as a PhD student at Cambridge University, following his search for the beginning of time, and his struggle against motor neuron disease. It stars Benedict Cumberbatch as Hawking and premiered in the UK in April 2004.
The film received acclaim, with critics particularly lauding Cumberbatch's performance as Hawking. It was nominated for Best Single Drama in the BAFTA TV Awards in 2005. Cumberbatch won the Golden Nymph for Best Performance by an Actor in a TV Film or Miniseries, and received his first nomination for a BAFTA TV Award for Best Actor. Cumberbatch's portrayal of Hawking was the first ever portrayal of the physicist on screen.
A Brief History of Time (1991) by Errol Morris: The title derives from Hawking's bestselling book A Brief History of Time, but whereas the book is an explanation of cosmology, the film is a biography of Hawking's life, featuring interviews with family members, colleagues, and even his childhood nanny. The music is by frequent Morris collaborator, Philip Glass.