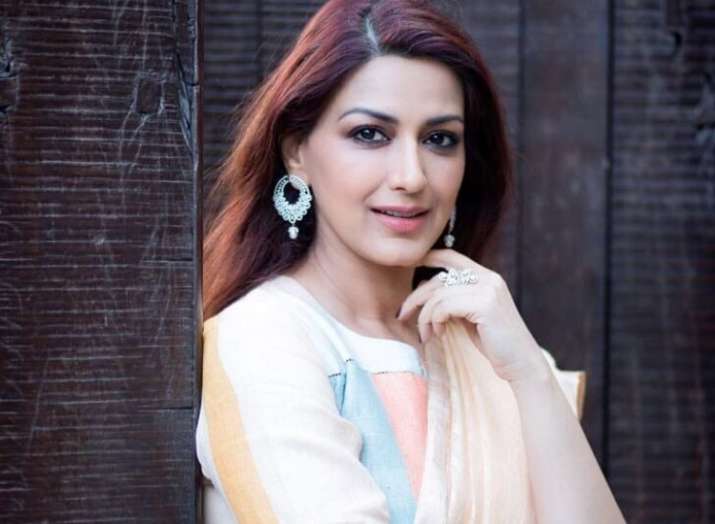 Bollywood actress Sonali Bendre diagnosed with cancer. Sonali announced this news through a long Instagram message. After Irrfan Khan, another Bollywood celebrity Sonali Bendre is diagnosed with this disease. Last month, Sonali was admitted to the Hinduja surgical healthcare as she was facing a gynecologic problem. But now the actress has issued an official statement confirming that she has been diagnosed with cancer. Presently, the actress is undergoing treatment in New York.
Sonali Bendre took to Twitter to share the shocking news. Through her emotional and powerful post she showed her strong grit and determination to beat the disease and come out a winner. She wrote, "Sometimes, when you least expect it, life throws you a curveball. I have recently been diagnosed with a high grade cancer that has metastised, which we frankly did not see coming. A niggling pain led to some tests, which led to this unexpected diagnosis.  My family and close friends have rallied around me, providing the best support system that anyone can ask for.  I am very blessed and thankful for each of them." Sonali Bendre's cancer news came as a shock to many. 
WATCH VIDEO: Sonali Bendre reveals she is suffering from High-Grade Cancer
July 4, 2018
She further stated, "There is no better way to tackle this, than to take swift and immediate action. And so, as advised by my doctors, I am currently undergoing a course of treatment in New York. We remain optimistic and I am determined to fight every step of the way. What has helped has been the immense outpouring of love and support I've received over the past few days, for which I am very grateful.
I'm taking this battle head on, knowing I have the strength of my family and friends behind me."
Before Sonali, Irrfan Khan also dropped the news about his neuroendocrine tumour earlier this year and that he was going out of the country for treatment. His post read: 
March 5, 2018
Sonali was gearing up for reality show India's Best Dramebaaz season 3 but she opted out of the show after the first episode. Now we know the reason. Huma Qureshi is all set to replace her as the judge on the show.
The moment Sonali shared the news about her cancer, wishes pour in from all corners. Here are the LIVE Twitter reactions:
Godspeed ,love and strength to a true fighter and a solid soul!!!❤️❤️❤️ https://t.co/fvUOpD9ubW

— Karan Johar (@karanjohar) July 4, 2018
@iamsonalibendre Our prayers are with you 🙏 Stay Strong...!!! Be positive and optimistic. Defeat it !!Get Well Soon !!!. Wishing you a speedy recovery 🙏. You will come back stronger 👍🏻#SonaliBendre@ajaydevgn #AjayDevgnWorld https://t.co/DIfzHC3TY0

— Ajay Devgn World (@WorldDevgn) July 4, 2018
Fight that bastard Sonali don't let it win !!! https://t.co/MW8xFb8JTz

— Arjun Kapoor (@arjunk26) July 4, 2018
Deeply saddened & shaken by this news. Praying for your speedy recovery & good health @iamsonalibendre . 🙏🏽 @GOLDIEBEHL sending all the positivity & best wishes. https://t.co/vI537mH47j

— Riteish Deshmukh (@Riteishd) July 4, 2018
Dearest dearest one, remember you always with a girl wit so much strength n will power!!!! Loads of prayers fr you!!! Get well real soon !!!! Big big hug https://t.co/SdkJL1N9jj

— Divya Dutta (@divyadutta25) July 4, 2018
Sending you all the love, strength and prayers to fight this Sonali!! I know you will!! We all love you! ❤️❤️ @iamsonalibendre https://t.co/7aPU4NVq5A

— Sophie Choudry (@Sophie_Choudry) July 4, 2018
You are one of the strongest women I know! I admire &respect how u always stood ur ground in the face of adversity...and won! A WonderWoman who does it all-actor,author,mom,wife! An inspiration 2so many!Cancer will surely lose this fight! Our Love & Prayers are with u always! https://t.co/EPtrOsH0Xa

— Vivek Anand Oberoi (@vivekoberoi) July 4, 2018
Sending you strength and love! ♥️

— Ileana D'Cruz (@Ileana_Official) July 4, 2018
Dear Sonali, sending you lots of positivity and prayers for this fight of yours. I Salute your spirit and pray that all goes well.. good willing all will be okay. 🙏🏼 https://t.co/x90SaKyrhV

— Aftab Shivdasani (@AftabShivdasani) July 4, 2018
Our prayers are with you 🙏 Get well soon.

— Atul Mohan (@atulmohanhere) July 4, 2018
My dear friend. Praying for you. Fight it and come back stronger.

— S Ramachandran (@indiarama) July 4, 2018
You will defeat it. Prayers & good wishes. You are gem of a person #SonaliBendre https://t.co/QMxUJMv8gg

— Karan Bhardwaj (@Karan_Bow) July 4, 2018
You will come up more stronger.
Wishing u speedy recovery beautiful lady❤
You are my everfavourite.
Lots of love & prayers❤❤🙏
GetWellSoon

— AnshikaJainKaur (@anshika_75) July 4, 2018
Sonali, like everything else you do, we are confident that you will conquer this as well. Sending so much love and positivity your way.

— Aditi (hot takes 4 koolkidz) (@awryaditi) July 4, 2018
This is really shocking! Life can be so unpredictable. Prayers for @iamsonalibendre 💕
Strength, love and power to you. #sonalibendre pic.twitter.com/Dpee4av6L1

— Priya Adivarekar (@priyaadivarekar) July 4, 2018
God loves good people more so he keeps throwing challenges before them. U r a brave woman with golden heart Sonali. U wil give it a tough fight n come a winner. Good wishes always. God bless☺️

— Diwakar Mishra (@Diwakarpm) July 4, 2018
Get well soon mam
Bholenath aapki raksha kre pic.twitter.com/LaCOXRI6CY

— fan (@Badboy2222222) July 4, 2018
#SonaliBendre I Pray God Speedy recovery @iamsonalibendre

— Poonam Pandey (@iPoonampandey) July 4, 2018
More Power, More Strength , More prayers.. Big HUG Sonali ... You will be back soonest... Prayers to GOD ! #SonaliBendre #RjAlok https://t.co/PvVCq3YaDX

— RJ ALOK (@OYERJALOK) July 4, 2018