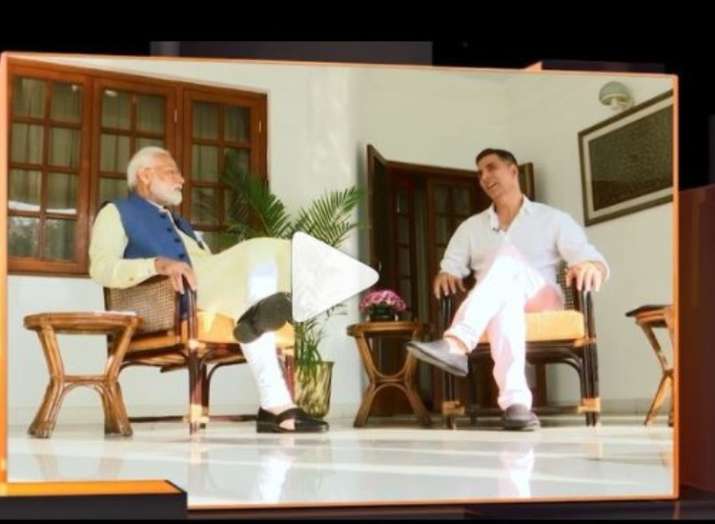 After leaving the fans confused with his latest tweet, Akshay Kumar has finally revealed about the 'new territory' he has entered. On Tuesday evening, the actor took to his social media to share a sneak peek about his candid conversation with India's Prime Minister Narendra Modi. He shared an interesting video with him and wrote, "While the whole country is talking elections and politics, here's a breather. Privileged to have done this candid and COMPLETELY NON POLITICAL freewheeling conversation with our PM @narendramodi . Watch it at 9 AM tomorrow via ANI for some lesser known facts about him!"
In the video, he asked the prime minister about his family and everything about his personal life and claimed that they didn't touch the topic of politics. PM Modi is seen sharing about his mother as he reveals that at a very tender age, he left his family and today, his mother asks why he wastes so much time after her. Check out the video here-
While Akshay Kumar has just released a teaser of their conversation, the full video will be aired at 9:00 am on Wednesday, a day after polling ended of teh third phase of Lok Sabha polls. The video has been shot at PM Narendra Modi's residence in 7 Lok Kalyan Marg and is over one hour long. During the interaction, Akshay Kumar asked PM Modi about his sleeping schedule and mentioned that he sleeps for 3-4 hours a day which is considered unhealthy by many. To this, PM Modi revealed, "When President Obama met me for teh first time he asked me why do you do this? Now whenever we meet he asks me have you increased the amount you slept or not?"
Do you ever wonder whether PM Modi manages to laugh during the heat of the election campaign? You'll get the answer tomorrow at 9am @ANI, in an informal and non-political conversation that I got the chance to do with @narendramodi ji. Do watch! pic.twitter.com/pczNar7k3A

— Akshay Kumar (@akshaykumar) April 23, 2019
Earlier on Monday, Akshay Kumar tweeted, "Getting into an unknown and uncharted territory today. Doing something I have never done before. Excited and nervous both. Stay tuned for updates." The moment this tweet surfaced the internet, fans started speculating that teh actor is contesting elections. However, soon after the tweet, Akshay Kumar clarified that he is not contesting elections and said, "Grateful for all the interest shown in my previous tweet but just clarifying in light of some wild speculation, I am not contesting elections." 
Getting into an unknown and uncharted territory today. Doing something I have never done before. Excited and nervous both. Stay tuned for updates.

— Akshay Kumar (@akshaykumar) April 22, 2019
Grateful for all the interest shown in my previous tweet but just clarifying in light of some wild speculation, I am not contesting elections.

— Akshay Kumar (@akshaykumar) April 22, 2019