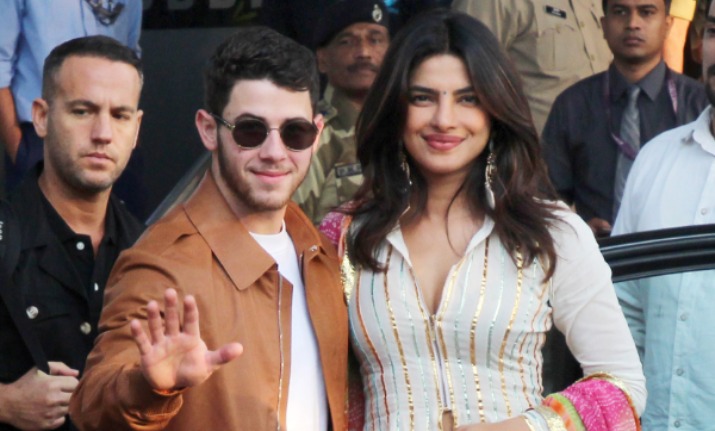 Priyanka Chopra and Nick Jonas are surely a match made in heaven. The couple, who is getting hitched in a couple of days, are surely not the usual couple we see around us. Nick is 26, young and dynamic while Priyanka is 36, bold and ambitious. They are opposites, and yet make for the most perfect match we've seen in the recent times. They are defying odds, handling with grace all the trolls who were targeting them for their huge age gap. While they are getting to walk the aisle together on December 2nd, let's have a look at their unusual love story. The duo will feature on the Vogue Magazine's January issue.
A corresponding interview with the magazine has divulged some really interesting details about their wedding. Priyanka and Nick started texting each other way before they walked together at Met Gala 2017. Nick was the first one to approach Priyanka, smitten by her beauty. He sent a direct message to her on Twitter, reading, 'I'm hearing from a mutual friend that we should meet.'
Priyanka asked him to text her on her cellphone as her team can read those messages. They met at the Vanity Fair Oscars party, when he got down on his one knee and asked her in front of the crowd, "And I put my drink down, get on one knee—this is in front of a bunch of people—and I say, 'You're real. Where have you been all my life?' Like, loud."
Priyanka ended up invited him to her home where her mother Madhu Chopra was watching her daily soaps in her nightgown. "We hung out for a couple of hours... he patted my back before he left," she said. "There was no kiss. There was nothing," he confirmed.
"There was a back pat," she said. "She's still upset about that," he replied. "Your mom was in the house! I thought it was a respectful first night," he added. "It was too respectful if you ask me," Priyanka replied.
Joe Jonas and her fiancée Sophie Turner used to laugh at Nick Jonas seeing how smitted he was by Priyanka Chopra. "He's sitting on the floor. And Sophie and I were just laughing at him. We're like, look at this little smitten, drunk kid right now."
It was on the third date that Nick Jonas knew he wanted to marry Priyanka Chopra. He called up his mom to give the news. He proposed to her in Greece with a Tiffany ring.
"I got down on one knee, again, and I said: Will you make me the happiest man in the world and marry me? No joke—she took about 45 seconds. Forty-five seconds of silence."
"I'm going to put this ring on your finger now unless you have any objections," Nick said.
This was how these two least expected people to be dating, actually began seeing each other. And now, this unconventional relationship is being culminated into a marriage, which is sure going to be a rock-solid one.