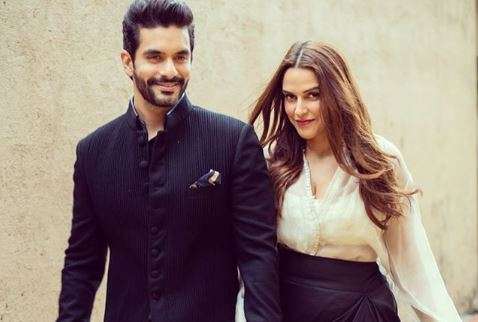 Newlywed actress Neha Dhupia is completely smitten by hubby Angad Bedi's old-world romantic charm. Recently, Neha appeared on the show revealing that Angad never wanted to date her.
Talking about how it all started with Angad, Neha reminisced: "Angad proposed to me in the nicest way possible wherein he went straight to my parents and then my mom called me saying that he is the nicest guy for you. But back then, I thought it wasn't the right time and said no to his proposal. He never wanted to date me as he was very certain that I will either be his friend or his wife. Ever since we have known each other, we were good friends and nothing more than that. 
"But on May 3rd this year, he asked me to come with him to Delhi. He dropped a hint that we need to settle down and proposed marriage in front of my parents which came as a surprise to both my parents and me," she added.
Asked about Angad's most annoying habit, Neha said: "He never completes a fight. Like every couple, we have our fair share of fights, but the point of the fight is to find a solution or at least finish it. But Angad just walks out of the house and goes on a drive while I'm still at home wanting to finish the fight."
(With IANS inputs)
For all latest news, stay tuned to our Facebook page