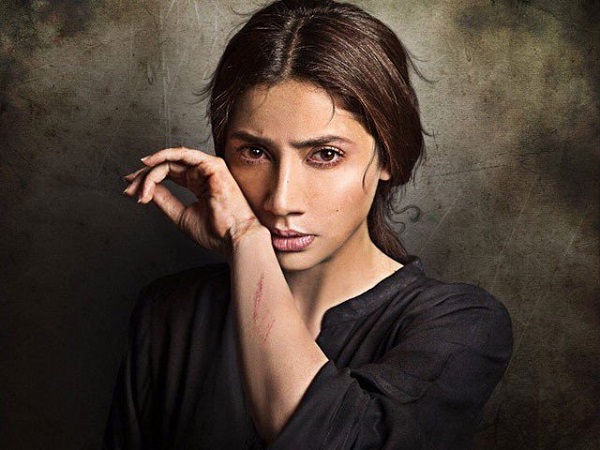 Actress Mahira Khan's film Verna which has recently released on big screen has received mixed reviews from the critics. Initially, the film wasn't released because of its sensitive plot- rape of a woman by governor's son. It was also slammed by Pakistani Censor Board. Mahira Khan is playing a rape survivor in the film. She shared a disclaimer shown before the film begins, on her Twitter account.
It reads: Everything in this film is imaginary. Imaginary because the reality is too bitter to be told or shown. Events shown in this film are jokes compared to what has actually been happening in countries like ours."
Disclaimer that goes before #verna starts 🎬 pic.twitter.com/ugBud8C73m

— Mahira Khan (@TheMahiraKhan) November 23, 2017
We're not sure if the disclaimer was actually displayed before the film or Mahira shared it as a sardonic take on the sorry state of affairs.
Many social media users came forward to praise Mahira for her bold move. They said, "Respect for your thoughts'. But not everyone appreciated her post on social media. Some even said that nothing like such is happening in our country and other countries have much worse situations. Trolls even asked the actress to leave the country if she's having a problem.
Reality check at first glance. Great job! Can't wait to see this one. :)

— Mystaxa (@Mystaxa125) November 24, 2017
Madam plz accept the reality that our nation still worth our social values that's way they couldn't digest the film. But ur acting in the film is upto the mark. U r an asset of the industry.

— Mubarik Ali (@lahore1963) November 24, 2017
It was such fantastic movie. May Allah help our people to make more and more which has a strong message for our society.

— Khalid Mehmood (@mehmoodkhalid33) November 23, 2017
But some negative comments overshadowed the positive response the actress has received.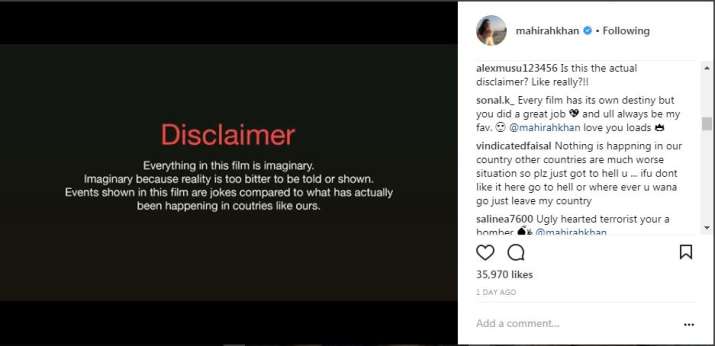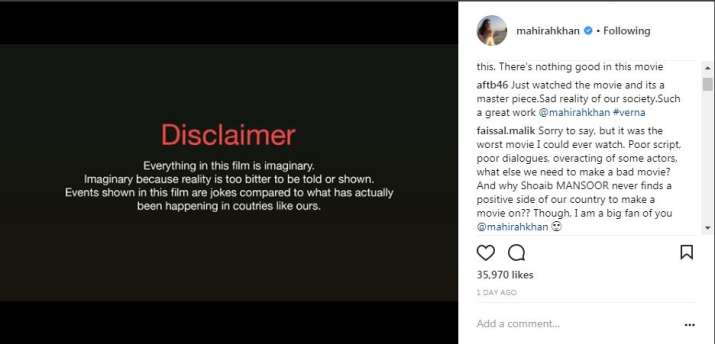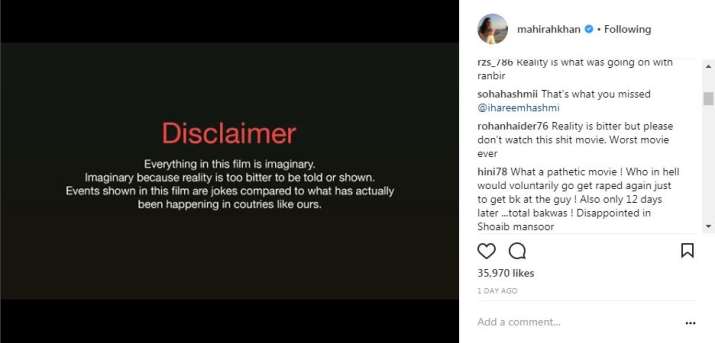 Verna is helmed by Shoaib Mansoor. He has made critically acclaimed films like Bol and Khuda Ke Liye, which are centred on follies of the state of affairs in Pakistan. People even targeted the filmmaker that why can never find a positive side of the country.
Pakistani Censor Board took some time to grant a certificate to Mahira Khan's Verna. In fact, Provincial censor boards which operate independently in Pakistan's Sindh, Punjab and other areas did not issue a certificate to the film. A member of Punjab Censor Board told PTI that they found the film objectionable. He said, ""Firstly, it shows a governor's son involved in a rape case - which was the biggest objection. Secondly, it includes many bold dialogues and scenes. The general plot of the movie revolves around rape, which we consider to be unacceptable,"
Verna was released on November 17, as per its preset schedule.