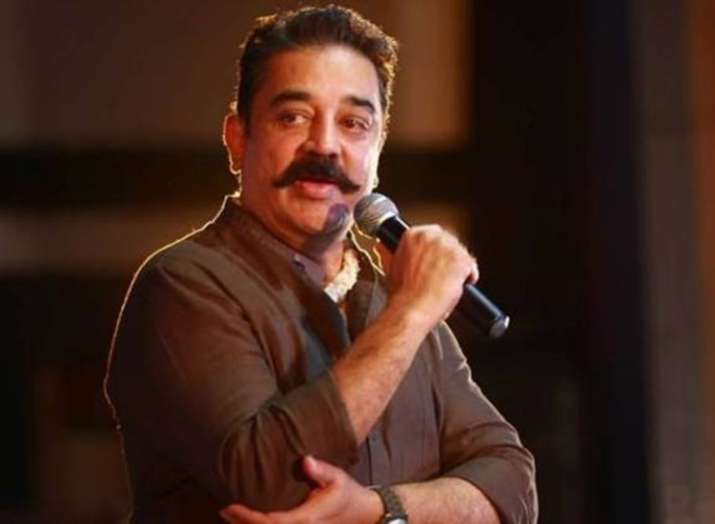 Days after creating a row with his Hindu terrorist remark, Makkal Needhi Maiam (MNM) founder Kamal Haasan reiterated that independent India's first extremist was a Hindu. Campaigning in Thiruparankundram Assembly constituency for his party candidate contesting in May 19 by-election, Haasan said: "In Aravakuruchi I said independent India's first extremist was a Hindu. It is an historical truth."
Haasan said some people were getting angry over his remark. Haasan said all his family members were Hindus and he would not talk in any manner to hurt their feelings. According to him, people without listening fully to his speech at Aravakurichi were alleging that he was creating enmity amongst communities. He said truth will always be bitter and that bitterness will turn into medicine.
On Sunday, at the Aravakuruchi Assembly constituency, Haasan, while campaigning for his party candidate, said about the killer of Mahatma Gandhi: "The first extremist of independent India was a Hindu -- Nathuram Godse. It all started from there." Tamil Nadu Minister for Milk and Dairy Development K.T. Rajenthra Bhalaji said the actor-politician's tongue should be cut.
Meanwhile, Haasan has applied for anticipatory bail in the Madurai Bench of the Madras High Court as a case has been registered against him for his Avarakuruchi speech.
On the other hand, Bollywood actor Vivek Anand Oberoi had slammed Kamal Haasan over his "first terrorist was Hindu" remark, saying the actor-politician should not divide the country. While campaigning for his party Makkal Needhi Maiam's candidate for the May 19 Assembly by-election in Aravakuruchi in Karur district on Sunday, Haasan said: "The first terrorist of an independent India was a Hindu - Nathuram Godse."
It was Godse who shot dead Mahatma Gandhi on January 30, 1948 in New Delhi. Referring to Gandhi's killing, Haasan added: "I am here to question that killing." Haasan's comment did not go down well with a section of netizens, including several politicians. Vivek Oberoi, who is a vocal supporter of the Bharatiya Janata Party (BJP), was also not impressed.
Dear Kamal sir, you are a great artist. Just like art has no religion, terror has no religion either! You can say Ghodse was a terrorist, why would you specify 'Hindu' ? Is it because you were in a Muslim dominated area looking for votes? @ikamalhaasan https://t.co/Hu3zxJjYNb

— Vivek Anand Oberoi (@vivekoberoi) May 13, 2019
Please sir, from a much smaller artist to a great one, let's not divide this country, we are one 🙏 Jai Hind 🇮🇳 #AkhandBharat #UnDividedIndia

— Vivek Anand Oberoi (@vivekoberoi) May 13, 2019
(With IANS inputs)