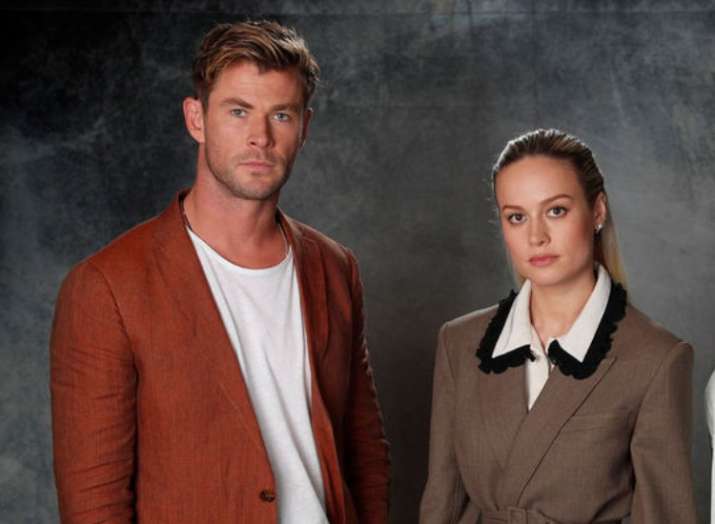 Avengers: Endgame has been ruling the trend charts ever since it was announced by the Marvel universe. Now that the film is just a few days away, the promotions are going in full swing and fans are waiting for the starcast to leak at least one spoiler from the last of the upcoming superhero film. Well, the stars haven't given any spoilers but their chemistry while promoting the film has been winning hearts all over. Recently, Captain Marvel Brie Larson and Thor aka Chris Hemsworth appeared together for an interview where Larson shut down Thor for calling her the next Tom Cruise.
A video is going viral on the internet in which some friction is seen between our two favorite superheroes, Captain Marvel aka Brie Larson and Thor aka Chris Hemsworth. The two were seen promoting their upcoming film Avengers: Endgame together that during an interview with Entertainment Tonight, Brie Larson revealed that she did her own stunts in the film. To this Hemsworth joked and asked if she wants to be the next Tom Cruise. The statement didn't go down well with Larson and she shut him up by saying, "No! I'll be the first me. Not the next Tom Cruise. Thank you very much." If this was not enough, in yet another clip, when Chris joked that she stole their hearts during the shooting of Endgame, Brie fired back, "Oh, Chris, that's really nice. I'm still stronger than you, you know. So..." Watch the video here-
Brie Larson had the BEST clapback at Chris Hemsworth when he implied she did all her own stunts because she wanted to be the next Tom Cruise. Do 👏 not 👏 come 👏 at 👏 her. 👏 #AvengersEndgame pic.twitter.com/M1MC2l3GVL

— Entertainment Tonight (@etnow) April 12, 2019
Brie Larson says she didn't steal anything from the set of #AvengersEndgame, but Chris Hemsworth says she did steal one thing: their hearts. ❤️ We love this friendship so much! pic.twitter.com/tV88HoIPVY

— Entertainment Tonight (@etnow) April 15, 2019
Brie Larson has turned director with Unicorn Store and she revealed that it has made her a better performer. Ralking about the same, she said, "Directing makes me a much better actor because you see the entire process all the way through. As actors, you just show up. You don't get to be a part of the pre-production as much and not see what everybody does on a team… "It just gives an overarching perspective that is really valuable because sometimes everybody gets kind of caught up in their roles. They don't see the bigger picture of how they fit in this… And with films like this in particular, where it's beyond even what's happening on the sets. There are people all over the world working on CGI, working behind the scenes."
"Avengers: Endgame" releases on April 26 in India but fans in Korea will get to see it on April 24.
More Bollywood stories and picture galleries
For all latest news and updates, stay tuned to our Facebook page