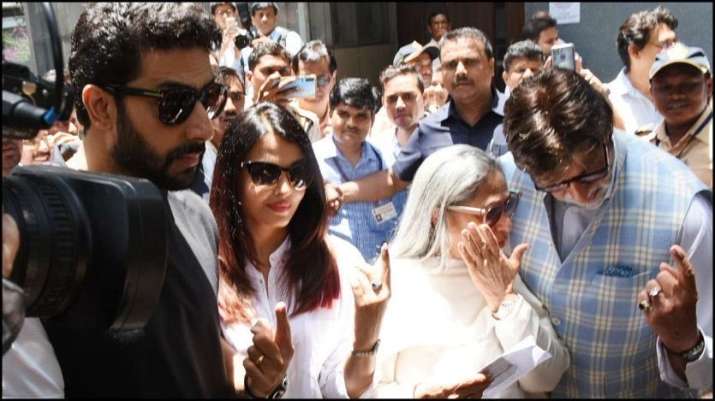 Megastar Amitabh Bachchan was one of those dedicated Mumbaikar who woke up early at the morning at stood in queue to cast their vote at Lok Sabha Polls 2019 on Monday. He was not the only Bollywood celebrity to do so. Many stars including Shah Rukh Khan, Salman Khan, Aamir Khan, Kareena Kapoor, Deepika Padukone, Anushka Sharma, Virat Kohli, Twinkle Khanna, Ranbir Kapoor and others turned up at their nearest polling booth to cast their votes. Almost everyone of them (those who are on social media) shared a selfie flaunting their ink-stained finger on the social media. On Tuesday, Amitabh Bachchan shared a picture with wife Jaya Bachchan, son Abhishek Bachchan and daughter-in-law Aishwarya Rai from the polling booth. He wrote, "आज के मुंबई के अख़बारों में , 'एक ऊँगली' की तस्वीरों को इतनी प्राथमिकता कभी नहीं मिली ; और मेरा ऐसा मानना है की यदि मिली होगी तो , मतदान वाले दिन ही मिली होगी ! जय लोक-तंत्र, जय प्रजातंत्र , जय जनतंत्र."
In his caption, he hailed the democracy and praised the Indians for coming out in heavy numbers to cast their vote. Also, Mumbai has recorded highest voter turnout in three decades. Industrialists Mukesh Ambani along with his family, was also among the voters who stood in the queue to cast their vote. 
Actors Salman Khan and Aamir Khan also cast their vote, as did Priyanka Chopra Jonas, Madhuri Dixit Nene, Karan Johar, Ranbir Kapoor, Javed Akhtar, Shabana Azmi, Varun Dhawan, Rekha, Kiran Rao, Shankar Mahadevan, Paresh Rawal, Ravi Kishan, Ajay Devgn, Kajol, Kailash Kher, Mahesh Bhatt, Aahana Kumra, Dia Mirza, Sonu Sood, Pooja Bhatt, Divya Dutta, Sonali Bendre Behl, Goldie Behl, Anupam Kher, Sanjay Dutt, Vidya Balan, Athiya Shetty, Esha Deol, Shilpa Shetty Kundra, Arjun Kapoor, Malaika Arora and Twinkle Khanna.
Deepika Padukone casted her vote and cleared the confusion in the media about her nationality. Earlier, it was reported that Deepika holds a Danish nationality. Snubbing all those reports, the Chhapaak actress proved her Indian nationality with just one selfie.