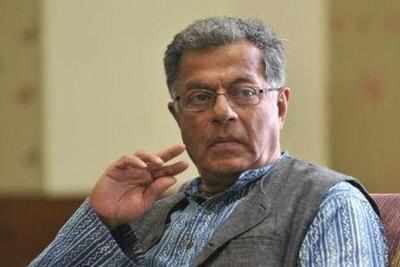 Girish Karnad, renowned film and theatre personality was on the hit list of those suspected of killing journalist-activist Gauri Lankesh along with and several other litterateurs and rationalists, according to sources in the SIT probing the Gauri Lankesh murder case said. Besides Mr Karnad, a recipient of the Jnanpith Award, the highest honour in literature, politician-litterateur BT Lalitha Naik, pontiff Veerabhadra Channamalla Swamy of Nidumamidi Mutt and rationalist CS Dwarakanath also figured in the list, the sources said.
The Special Investigation Team (SIT) has asked the state government to scale up security for four prominent personalities - actor-writer Girish Karnad, rationalists KS Bhagawan and Narendra Naik and Nidumamidi Mutt pontiff Veerabhadra Channamalla Swamiji - following threats from right-wing Hindu outfits.
In a letter to the home department, the SIT suggested deployment of gunmen for the four men and installation of CCTV cameras at their houses. The CCTV units should have a higher storage capacity and footage should be stored at least a year. The SIT also suggested monitoring the schedules and movements of the four persons when they visit other parts of the state
The team recovered a diary from the suspects with entries in Devanagari script. The diary had the names of these personalities, known for their strong views against hardline Hindutva, who were to be targeted, sources told PTI.
Some entries, they said, are coded and efforts are on to decipher them.
The SIT had said yesterday it had arrested 26-year-old Parashuram Waghmare from Sindhagi in Vijayapura district of Karnataka but his role in the conspiracy and other details would be revealed later as doing so now would affect the investigation.
Speculation is rife that Waghmare could be Gauri Lankesh's assassin as his physical appearance matched that of the man in the CCTV footage recovered from her residence who was suspected of having shot her.
Parashuram Waghmare was said to have links to Hindu right wing groups.
Inspector General of Police BK Singh, who heads the SIT, had told PTI yesterday that nothing had emerged during the probe so far to suggest that Waghmare had shot Gauri Lankesh.
Mr Karnad is known for his strong anti-Hindutva stance and so is Lalitha Naik. Veerabhadra Channamalla Swamy is also a vocal critic of hardline Hindutva, while rationalist Dwarkanath had once even questioned the existence of Lord Rama, raising the hackles of pro-Hindu outfits.
"All these people were either admirers or supporters of Lankesh or had a viewpoint similar to hers. The others mentioned in the diary too were vocal about Hindutva," SIT sources said.
The SIT has so far arrested six people -- Parashuram Waghmare, K T Naveen alias Hotte Manja, Amol Kale, Manohar Edve, Sujeeth Kumar alias Praveen and Amit Degvekar.
While Naveen Kumar is from Maddur in Mandya district of Karnataka, Amol Kale and Amit Degvekar are from Maharashtra.
(With PTI Inputs)