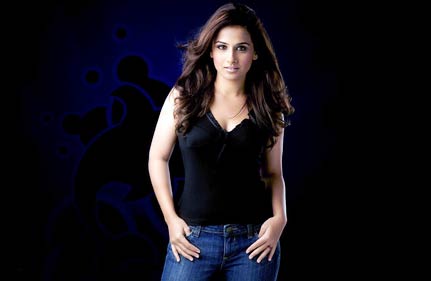 Shooting all day in sweaty crowded outdoor location for one film and dubbing for another film has taken its toll on actor  Vidya Balan's health, reports Mumbai Mirror.
After Priyanka Chopra and Katrina Kaif, Vidya Balan has suffered a health setback caused by acute overwork. The actress suffered from nervous exhaustion in Kolkata, where she is working on Sujoy Ghosh's film.
The incident happened earlier this week when the actress was burning the midnight oil for over a month shooting during day-time for one film and dubbing another. Suddenly in the middle of shooting, Vidya burst into tears and loud wracking sobs. A stunned silence followed. The unit was naturally shocked since there was outwardly no provocation.
Says Vidya, "Yes, it happened a few days ago and it scared the hell out of me and everyone in the unit. I am not prone to tantrums or outbursts.
I don't know what happened to me. I just broke down. It was work pressure. In the past three months I didn't have a day's respite. It was crazy. I was shooting all day for Sujoy's film in Kolkata.
Then director Rajkumar Gupta's people had flown to Kolkata for my dubbing of No One Killed Jessica because that is releasing on January 7. So I was dubbing in the night. It was tough schedule. I guess I overdid it.
My breakdown was as much a shock to me as it was for them. I don't know what happened. I've been shooting in Kolkata for a month and I've to shoot for another month.
Kolkata is my favourite city. I am seeing it like never before. This is my third full-fledged film in Kolkata. Much as I love the city I do miss my home and family in Mumbai." Take it easy, gal.