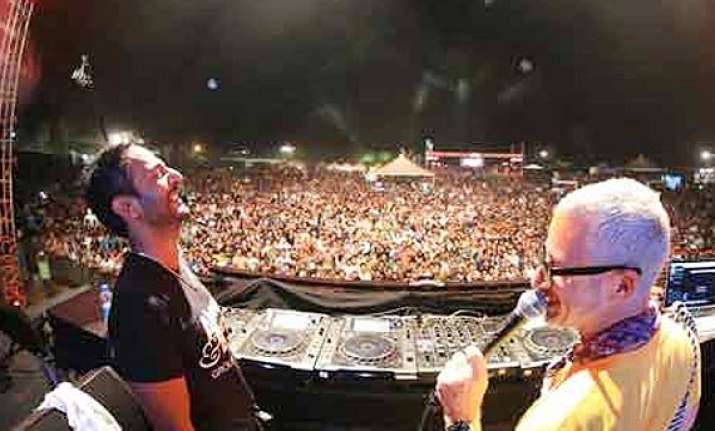 Candolim (Goa): Music has a quality to unite people, be it spiritual, rock or electronic dance music (EDM), and this notion was evident on the first day of Vh1 Supersonic 2014 on the shores of Candolim beach here Saturday.
As the year 2014 nears its end, the annual extravaganza presented a perfect blend of music and environ with sand and gentle breeze adding to the magic, resulting into a surreal energetic night.
The four-day music festival started with an average turnout of crowd because of hot weather, but the fest gradually picked up pace as sun set and all the party-goers and music aficionados came out of their homes.
Conceptualised by popular DJ Nikhil Chinapa and Live Viacom 18, the second edition of the music festival is back with a promise to be bigger and better. The detailing of the intricacies of the ambiance stands witness to this promise.
The stages are given interesting names with one dedicated to bass with name The Laboratoire Supersonique, another stage is named The Spectrum Stage, which will dole out a blend of mainstream commercial, trance and techno music.
And the last, but definitely not the least, The Iron Heart Stage, a marvel of art work with theme 'Steam Punk', which surely reminds people of the significance of the industrial revolution as they revel in the music belted out on the stage.
On the first day, The Iron Heart Stage attracted music-lovers like a flame gravitates moth towards it when DJs took over the house with their fast and pulsating beats.
DJ Funkagenda made the audience groove and Nikhil also applauded the artist and his love for the country. The musician kept the audience on it's toes and jumping for the entire session with fast and electronic beats and he summed up the night with a humble 'Namaste'.
A frenzy took over the crowd, when American DJ Dillon Francis took the stage to match up to the people's enthusiasm with beats of different modulations.
Another crowd puller was Detroit-based producer of techno music Carl Craig, who belted out his music comprising of fast beats with a robot kind of look.
The fest organisers have also took one of the burning issues of the country-- women safety-- into notice as drones have been set-up to take aerial pictures for constant vigil. There is a women bar as well.
In addition to this, one can satiate one's shopping craving at the flea market at the venue and then relish the lip-smacking food.
Need a break from the music? You need not go out of the venue but head to the fun zone at the venue and engage yourself in interesting games.
Other DJs who performed on the opening day were Arjun Vaghale, Magda amongst others.
The fest will also see performances by artists such as Above & Beyond, Paul Van Dyk, Dash Berlin and Infected Mushroom.