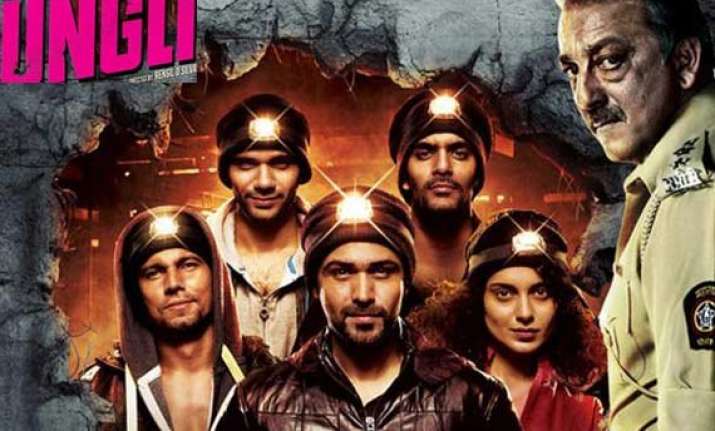 No no not at all. We aren't influenced in any way by these human ninjas that cover themselves with black wardrobes and walk through in the dark night to clean the corrupt system which is eating away our nation.
Ratings- *1/2
Stars- Emraan Hashmi, Randeep Hooda, Kangana Ranaut, Sanjay Dutt
Director- Rensil D'Silva
Music director- Salim-Sulaimam, Sachin-Jigar
Ungli couldn't stand half of our expectations and we are also disappointed by the good actors gone waste. Director Rensil D'Silva tries to portray a gang who takes over the crooked sections prevalent in our society but ruins the idea with bad execution, simplistic twits and non-feasible methodology.
There is a cliché message but is let down by a cliché treatment. It seems like the director wakes up one morning seeing a bad dream about him being victimized by the greedy system of the country and pledges to take the revenge in the real life. However, the inspiration is something which he misses out while making this movie. And even if he takes, he is just limited to copying the idea.
It feels sorry to have actors like Sanjay Dutt, Emraan, Kangana, Randeep Hooda and making a bad mash of it. Ungli here begins with an aged man pleading for his pension amount in front of some government clerks who instead mock him. The news spreads and the Ungli gang of four- Abhay (Randeep Hooda), Maya (Kangana Ranaut), Kalim (Angad Bedi), Goti (Neil Bhoopalam) gets its first assignment to teach that pension officials a lesson. They kidnap voracious clerks, make them run on the field and shoot their video to send across a message through news channels that this is the punishment for such ravenous officials. Overnight this gang becomes a hero, a couple of more such cases increase their fan following.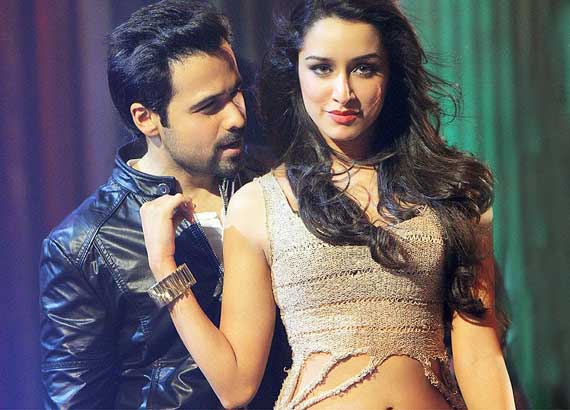 But the Mumbai police are getting pressurized to catch the gang and here enters ACP Kale (Sanjay Dutt) who is handed over the case. Kale under this disguise helps Nikhil (Emraan Hashmi) a non-serious suspended inspector to get back into the job by asking him to help in finding this new gang.
Thereafter follows a story, which is too unexciting and too predictable. However, we don't undermine the noble thought of the crusade shown in the movie. The problem here is that everything is taken too casually. Neither the kidnapping shows much preparation nor it creates much curiosity for the next time it takes. The suspense element never arouses in situations when the kidnapping or any activity to teach a lesson to the corrupt is taking place.
Most of all, the story behind the rise of Ungli gang is so weak that you hardly feel for their need to built. It's a revenge for their friend Ricky (Arunoday Singh) who is in coma after being hit by a spoilt brat of a politician. 'Aur Us Raat Ungli Gang Ka Uday Hua', says Abhay to the new member in his gang- Nikhil.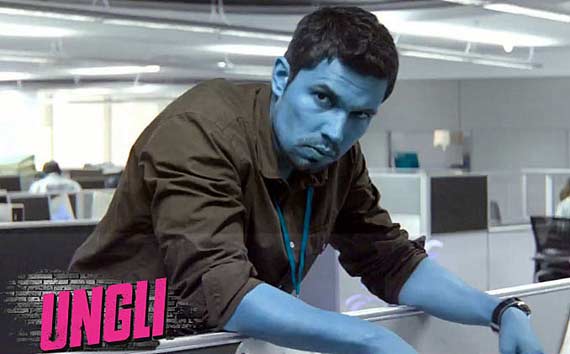 Many are the dialogues, which are laughable and dig a deeper hole in this movie, which already is finding it hard to sail. "Bachche ne agar potty ki hai to hum unki huggies badal dete hai par desh ke system ke under ki potty ko saaf karna aasaan nahi', says angered Nikhil to Kale.
There is another one, "agar aap kaale hai to woh (ungli gang) dilwale hai", once again Nikhil utters these words to Kale to defend the gang.
And yes, the police exposing the entire police department and revealing the political nexus are the least things, which one could think of in this movie.
Spare yourself from this movie because the performances too aren't anything, which one could look forward to. While the runtime of 117 minutes is something, which is admirable, it is also something which works adverse for its actors who don't get much time to excel.
Kangana who gave a brilliant show in Queen and Revolver Rani is let down in this movie, which doesn't have much scope for her.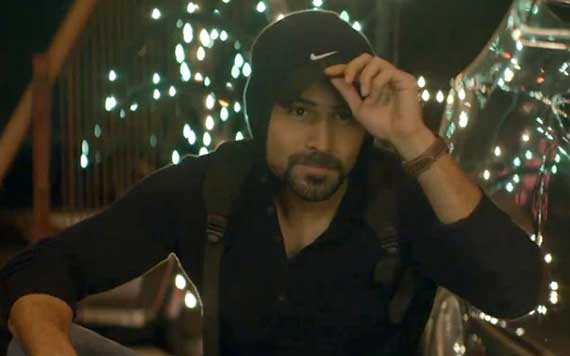 After around 30 minutes in the movie, Emraan Hashmi gets full frames to show his act apart from his one lip-lock and an unwelcomed dance number.
Randeep Hooda is the one who gets few scenes to give a good show but once again he too is let down by bad script.
Sanjay Dutt essays the role of a 'majoor' cop, which he has never played.  Music by Salim-Sulaiman and Sachin-Jigar isn't happening this time.
I'll go with one and a half stars for Ungli.