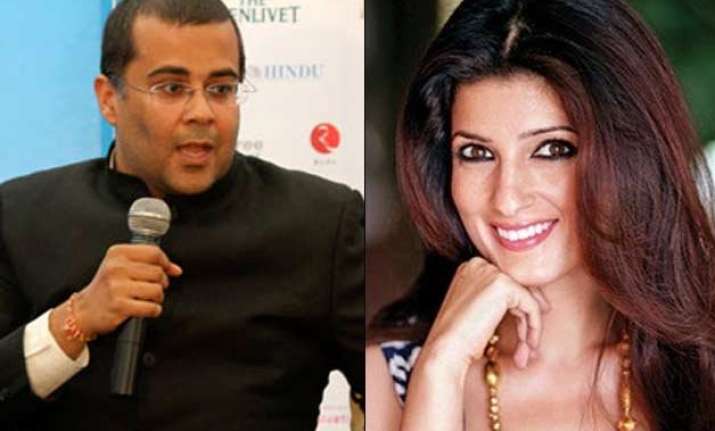 New Delhi: Bollywood wars have become uglier it seems! The latest celebs to be at logger-heads are Akshay Kumar's wife Twinkle Khanna and celebrity author Chetan Bhagat.
Chetan Bhagat who was trending yesterday for his small screen debut as a judge on dance reality show 'Nach Baliye 7', got involved in a an ugly exchange of words with Mrs Funny Bones.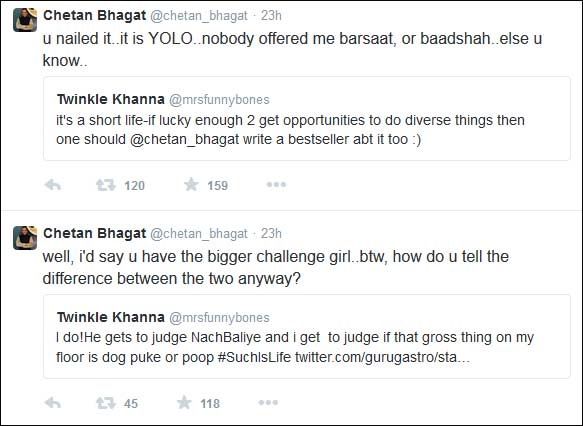 It all started when Twinkle Khanna's one of the followers took a jibe at Chetan Bhagat, tweeting, "You are an amazing writer, you don't need to change your name to Chetali Bhagat."
Quick-witted as she is, Twinkle promptly replied, "I do! He gets to judge Nach Baliye and I get to judge if that gross thing on my floor is dog puke or poop #SuchIsLife."
It didn't go down well with the celebrity author and he tweeted,"Well, I'd say you have the bigger challenge girl.. By the way, how do you tell the difference between the two anyway?."
Twinkle Khanna while refusing to accept such sarcasm, tweeted,"It's a short life-if lucky enough to get opportunities to do diverse things then one should @chetan_bhagat write a bestseller about it too."



The real twist in the story came when, Chetan Bhagat aimed at her filmi achievements, "You nailed it.. It is YOLO.. Nobody offered me Barsaat, or Baadshah... Else you know…"
But Twinkle was no less and took potshots on Chetan Bhagat's appearance,"Well if you were taller, had more hair you could have got Bobby Deol's role & if were way cooler, than SRK would be jobless?."
While giving an end to this whole drama on social networking website, Chetan wrote, "Ok seriously guys, was just a fun banter with @mrsfunnybones. She is fun and has a sense of humour in her tweets. Silly to read more into it."
Our Mrs Funny Bones, gave a royal ignore to this tweet and didn't reply at all!