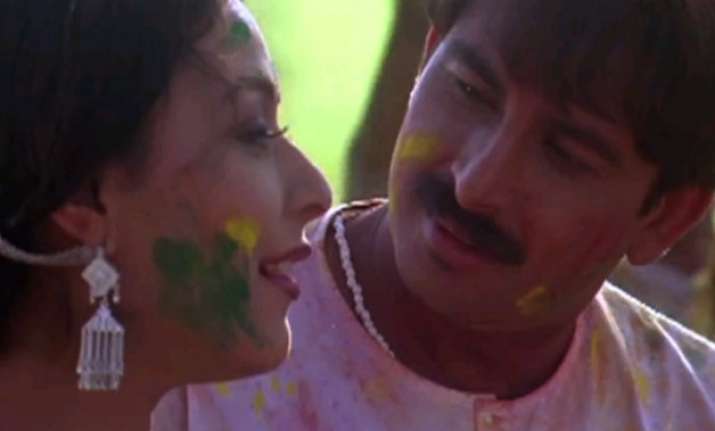 New Delhi: While Bollywood Holi songs are already hit in the festival of colours, Bhojpuri songs have too gained popularity in past few years and are topping chartbusters.
Not only Bhojpuri lovers but ardent Bollywood followers too are driven towards these 'dhin-chak' songs. With simple instruments but funny lyrics, the songs have made quite a loyal market in last few years. During Holi, you will definitely find these enticing songs being played and people dancing to the tunes with no holds barred. Singers namely Dinesh Lal Yadav, Pawan Singh, Manoj Tiwari and Kalpana have crooned numerous super hits.
And as just two days remains to ring in Holi celebration, we present you top five Bhojpuri singers and their Holi video songs, which you would love to include in your playlist this season.
Dinesh Lal Yadav- The popular singer, actor and TV presenter, Dinesh's Holi songs will leave you in splits if you watch them while at dance floor they drive you crazy. 'Nahi Range Ke Ba Ghaghra Choliya', 'Patarko Bhauji', 'Mahangi Udaile Ba Dhuawan', 'Deda Holi Ke Tyohari World Cup E Dhoni,' 'Mathwa Pe Ghunghat Kaili' along with many other hit tracks you can find in above video. 
Manoj Tiwari- The actor cum singer is noted Bhojpuri personality. His hit Holi tracks like 'Faagun Aayil,' 'Chalin Maaf Kaidin Laika Ha', 'Dhadhak Dhinak Dhin', 'Awadhpuri Me Faag', 'Budhau Ke Antim ichha Ego Kiss' are in fashion during celebrating the colors of festival each year.
Kalpana Patowary- Known as the Nightingale of Bhojpuri, music industry Kalpana has also given numerous Holi tracks like 'Siya Nikle Awadhwa Ke Aur', 'Bhar Faagun Saiyaan', 'Satvaley Rah' among others. Each song is layered with fun with a pinch of cute romance among couples while cherishing the festival.
Pawan Singh- This singer too is popular in Bhojpuri when it comes to Holi celebration. The fast paced melodies like 'Mobil Ke Daali Machine Mein', 'Daaleb Gulaal Rang Choli Mein', 'Rang Daalab Chaina Ke Masheen Se' lures you to come on the dance floors with your partner and just flock crazily.
Ravi Kishan- When it comes to 'masti', how can we forget our very own Ravi Kishan. It doesn't matter he isn't a singer but every Holi song he has featured in is zealous with his energetic act. The superstar in Bhojpuri cinema, he has featured in numerous Holi songs. And while he leaves no escape in making each song look more enjoyable than before, you can't stop dancing hearing them on dance floor.