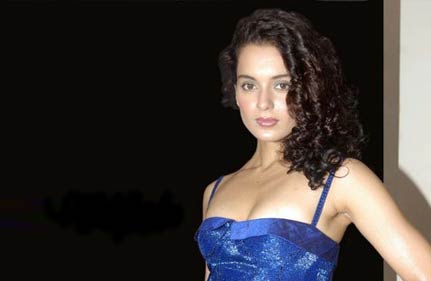 New Delhi, Nov 3: The rumoured changes in her body and face have repeatedly hit headlines but Bollywood actress Kangana Ranaut is not perturbed by them and says she rather finds it amusing to read stories about her "surgeries".
The actress was last seen in 'Knock Out' but did not have much to do. She also turned into a diva for Ajay Devgn starrer 'Once Upon A Time In Mumbaai' and this was the time when news broke about her going under the knife.
"Honestly, it was never annoying at all to read things about me. On the contrary, I really enjoyed all those pieces that were being written. To read about your own surgeries is amusing," said Kangana.
The 23-year-old says she was initially shocked at the media reports and attributes the noticeable changes in her frame to eating "rich North Indian food" during the shoot of Aanand Rai's 'Manu Weds Tanu'.
Kangana says she had stopped working out after hurting her foot for some time, which also led to a fuller figure. "It is discipline, exercise and meditation which bring your real beauty out. This was exactly the case with me as well. Everything has grown naturally for me. If I am glowing better than before, it is because any young woman starts shining as she moves ahead in her 20s. Same is the case with me as well," says Kangana.
However, over the last few weeks, tabloids have also speculated that the actress went for a lip enhancement as well as face lift.
"A 20 something girl doesn't need a face lift. If any tabloid wants to click me from different angles and form an inference about my body, so be it," she defends.
While her body has been a constant topic of discussion for most part of this year, the actress says she will be busy shooting througout the next year. 
"There is some good work happening and I am glad to be busy. After 'No Problem', I would be seen in two more comedies - 'Double Dhamaal' and 'Rascals'. Then I have also done a romantic comedy 'Manu weds Tanu' with Madhavan which should be releasing soon as well. Then there is an action thriller 'Game' while Priyadarshan sir's 'Tezz' is also on. Its a full time ahead and I am enjoying every bit of it." PTI