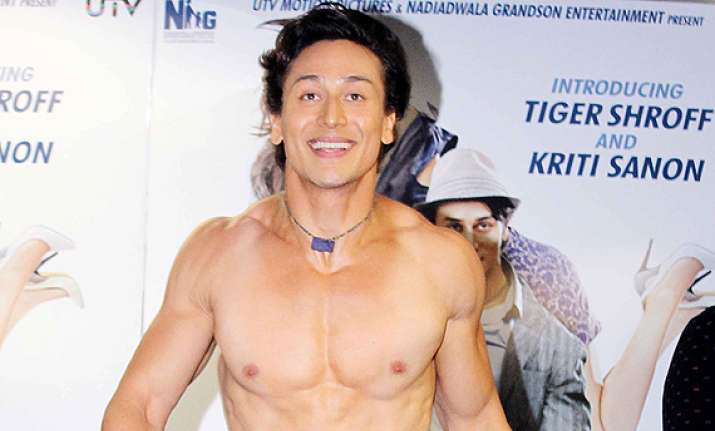 Tiger Shroff is reigning in Bollywood these days. Apart from the buzz around his upcoming, 'Heropanti,' the newbie has created a stir among Twitteratis by being the latest target of their hilarious jokes on Twitter.
These smart witty people on the social networking site have apparently made Tiger Shroff's name a big hoopla and jokes are on their rage with his name being getting dented and painted.
The actor who is debuting in Bollywood along with Kirti Sanon in Sajid Nadiadwala's 'Heropanti' has already garnered raving views for his splendid body and dance moves. He has become a hit among female audience but with this Twitter gags, the actor has become a prime target after Aloko Nath, Niel Nitin Mukesh and Yami Gautam.
Read a few of the trending jokes below:
Heropanti is Jackie Shroff's attempt to be a responsible citizen by contributing to Tiger conservation project.
Tiger Shroff looks like he has waxed his facial hair and we can easily run a car over there.
Tiger Shroff's debut movie would premier on Animal Planet
Tiger Shroff has already made his debut in #Kaal!
Maneka Gandhi has promised to help Tiger Shroff should he ever face any trouble in fife. 
Tiger Shroff will never ever be beaten in any movie coz it will be against animal rights.
Once upon a time, Tiger Shroff met a long lost friend. Tiger: Main baap ban gaya hoon.. Friend: Congrats! "Cub" hua?
Tiger shroff would be challenge for legend actors like Himesh , Tushar , Uday , Fardeen etc etc....
How many of you believe that Tiger Shroff is an endangered species even before his first release?
Heropanti will come with a disclaimer...' No animals were hurt during the movie shoot including Tiger Shroff' .
'Save the tigers. Only 1411 left. Tiger Shroff: Make it 1412.
After watching Tiger Shroff in Heropanti people will definitely say - Don't save Tigers.