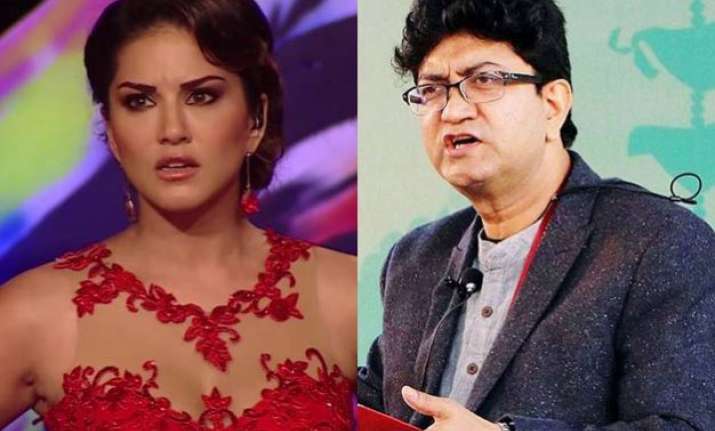 New Delhi: Renowned lyricist and screen writer Prasoon Joshi on Tuesday criticised film actress Sunny Leone for her past choices. Speaking on the 10th anniversary event of 'Rang De Basanti' Joshi asserted that he didn't respect Sunny's past profession of being an adult movie star.
"I would like to say that you can have a comment on someone's professional choice. Because it is not necessary that every profession has to be a good one and if it is not a good profession, it should be criticised. I would like to say this. Sometimes we start praising a profession to the skies. It is important that the profession which is connected to our lives should do great work for the society. It should do something positive for the society," said Prasoon.
This statement by Prasoon has come at a time when a major chunk of the family fraternity is singing praises for Sunny. The 'Mastizaade' actress faced a 'sexist' interview a few days ago. She handled the grilling questions with dignity and everyone in the film industry was impressed by it. In fact, Aamir Khan tweeted that he would love to work with Sunny and has no issues with her 'past'.
However, Prasoon differs with Aamir on this. He added, "I don't respect Sunny Leone's profession. I wouldn't want our youth to get inspired by her profession. But because of that to make a person feel as an accused and disrespect her is not something that one should do."
The lyricist also clarified that he would not disrespect Sunny if he runs into an encounter with her. "But that doesn't mean that when that comes before me will I disrespect him or her. I wouldn't. My culture doesn't allow me. But I will not praise her profession. If there is a profession which doesn't play a constructive role in building a great society we need to criticise it as well. It's a free society. People have choices to make, and if choices are not great those should be criticised. Somewhere one should draw a fine line."
Sunny, who was at a store launch in Mumbai, recently, was asked to comment on Prasoon's statements. To this she said, "I don't know who Prasoon Joshi is. I will google him and then I will comment."
Looks like Sunny is miffed with Prasoon and not talking about the incident is her way of handling the episode.