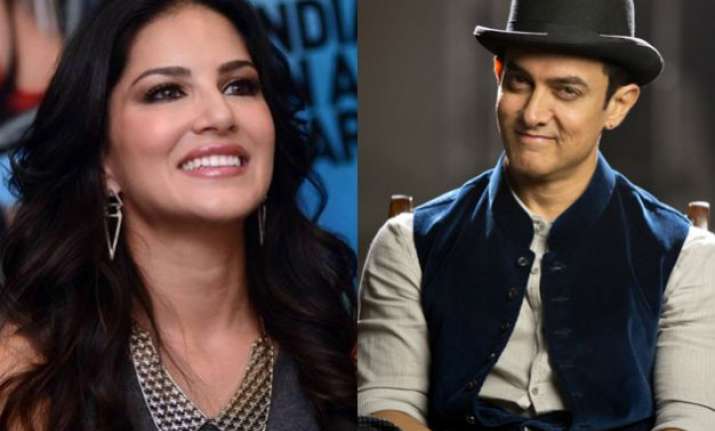 New Delhi: Actress Sunny Leone who is four years old in Bollywood got the support of almost the entire film fraternity on Tuesday. The way once adult movie star faced the TV interview what many are terming as a 'sexist' interview. After prominent names lauded Sunny yesterday, superstar Aamir Khan today has come out in her support by saying that he would be happy to work with her.
During Sunny's interview for an eminent news channel, the well known journalist asked her if she would like to work with Aamir. To this, Sunny said, "Yes, who wouldn't". Then, the anchor grilled her asking if Aamir Khan would agree to work with her, citing her past connection with porn industry.
Sunny, in a husky tone, said, "He might not. But that doesn't affect me at all. I will still be his fan and will still watch all his films".
The journalist was slammed for digging Sunny's past and coming back to the same question, time and again in other words. While the 'Mastizaade' actress stood for herself quite well, impressing everyone, Aamir Khan is the newest one to join the list.
In a tweet, Aamir appreciated the way Sunny conducted herself in the interview. He also added in his next tweet, that he has absolutely no problems working with her.
Here is what Mr. Perfectionist tweeted: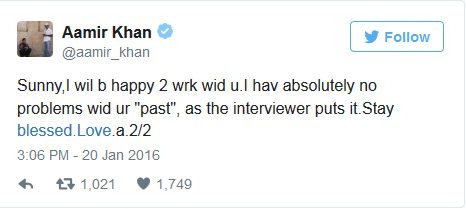 Sunny, who obviously was elated to get such a response from the 'PK' star replied with this tweet.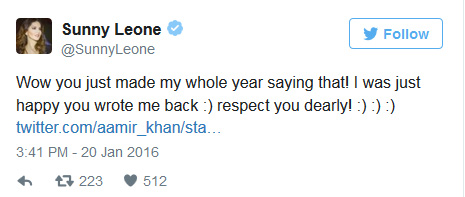 Well, Sunny congratulations. Your manger can expect a call from Aamir soon enough.