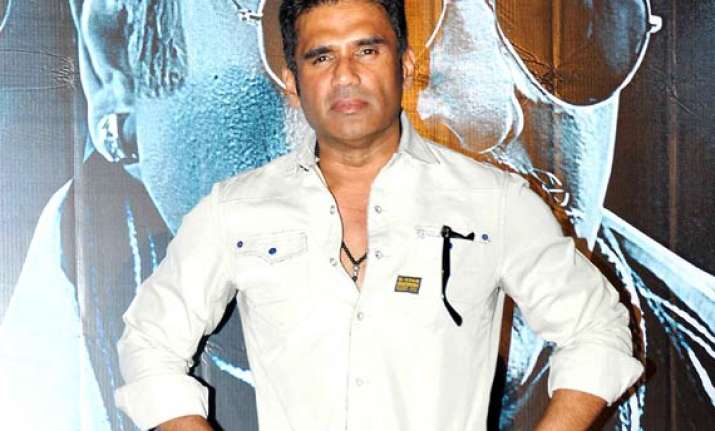 New Delhi: Heeding to warnings, Bollywood actor Suniel Shetty today showed up before a Delhi Court where he was the cynosure of all attention leaving the complainant in a criminal defamation case aggrieved.
Puran Chauhan, a Delhi-based stuntman, complained to the court staff about the "special treatment" meted out to the actor, who was given the privilege of being heard in judge's chamber while judges and staff of Karkardooma court posed with him for photographs.
"When law is equal for all, Shetty should be treated as any other ordinary accused and  should not have been given any special treatment. The proceedings should have been conducted in the open court," Chauhan told those present in the courtroom while expressing his displeasure over the entire incident.
Court sources, on condition of anonymity, confirmed that some of the judges interacted with Shetty and there was a photo session inside the chamber of Chief Metropolitan Magistrate Savitri who granted regular bail to the actor.
The in-chamber proceedings were opposed by several lawyers who were also present in the courtroom for their cases.
52-year-old Shetty appeared in the court amid security and he was the immediate centre of attraction  with a large number of staff, advocates and litigants coming  to the courtroom to have a glimpse of him.
Before the proceedings began, several advocates and court staff also clicked photographs of the actor in the courtroom and also took his autograph.
According to court sources, in the one-and-a-half-hour long hearing, Shetty was also served soup in the CMM's chamber.
The court was hearing the defamation case filed in October 2013 against Shetty and his advocate Vinit Dhanda by Chauhan, who has alleged that they had made false statements before the Delhi High Court and the media that he had beaten one of them and an FIR was lodged against him. The court has now fixed the matter for April 16 for further proceedings.
Earlier on March 31, Shetty was given a last opportunity to appear before the court without any fail and Rs 20,000 cost had been imposed on the actor twice for his non-appearance.