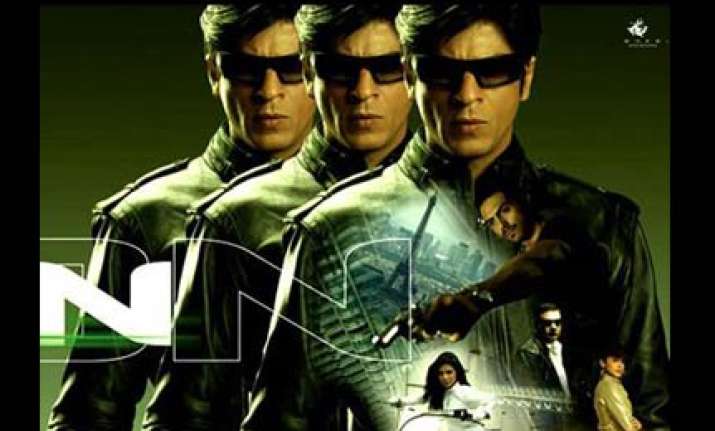 Bollywood superstar Shah Rukh Khan is packing his woolies and preparing for a cold, bleak winter in Berlin, where he is jetting off to in a couple of days to begin work on Excel Entertainments Don 2, reports Bombay Times. .It is a two month-long schedule, the report says, and SRK will be celebrating his birthday on November 2 in Germany.
After the success of Don, SRK is excited about the sequel, which promises to be bigger and better.
In the sequel script, the police of 22 countries will be after him as against 11 in the first part. The victory of evil over good.Don is an unpredictable, edgy character. He in intriguing. A little bit of Mickey Rourke, Gerard Depardieu, John Malkovic and Clint Eastwood. He's romantic and sensual, he watches cartoon films, but he's also a mean, catch-me-if-you-can guy.Says SRK: "I like Don's attitude. There's lot of scope for me to play him'. 
Shah Rukh Khan's fans have accepted this inglorious bastard as he is fond of calling Don. The actor is delighted with that, even though he is glorifying evil, because nobody as yet has accused him of being a bad influence .Not even his children. He accepts that Don is a bit of a badmash. But he's also enigmatic.  
'I wish he didn't rape women and do drugs. But even that, he does in style, there is no sleaze. Don is a base thought that we all have that if I were to do bad things, I would do it with style Crime doesn't pay, but it makes life cool, doesn't it', he argued.  
Ritesh Sidhwani and Farhan Akhtar, the proud producers of Excel, say that the Mayor of Berlin actually opened out areas in the ancient, historic city that were restricted to the Hollywood filmmakers shooting Inglorious Bastards and Valkyrie there.
That's how big Shah Rukh is in Berlin, exclaimed Ritesh. 'People there,and I mean not just Asians but Germans also, have started taking leave to be working on this film as extras.'The anti-hero of this big budget action thriller also thinks Berlin is a cool place.
He would, he has a stronger fan base there than any Bollywood actor as he discovered when attending the Berlin Film Festival to promote My Name Is Khan.   
'Hundreds of people stood on the road in the snow, they treat me like a German star, and they respect and love me... like the energy I bring on the screen has filled up some void in their mechanised lives. I'm their adopted son, like Raj Kapoor was to Russia, it is a very humbling experience', SRK says.  
'I'm excited to be shooting in Berlin, I like the darkness of the buildings, the starkness of the winter, people dressed in overcoats and wearing mufflers and dark glasses, and black cars going around.'Right at the start of the schedule, Excel intends shooting an edge-of-the-seat,14-day car chase next to the monumental Brandenburg Gate in Berlin.
Shah Rukh is glad to be getting back into action. He has begun exercising , getting back some of the muscle he lost for the parkour action sequences of Ra.One, though in Don 2 it will be slick gun action, fights with devices, a combo of James Bond and Matrix. 'But I'll be a completely in-your-face mean character, like Bond gone wrong, this is Farhan's creation.'