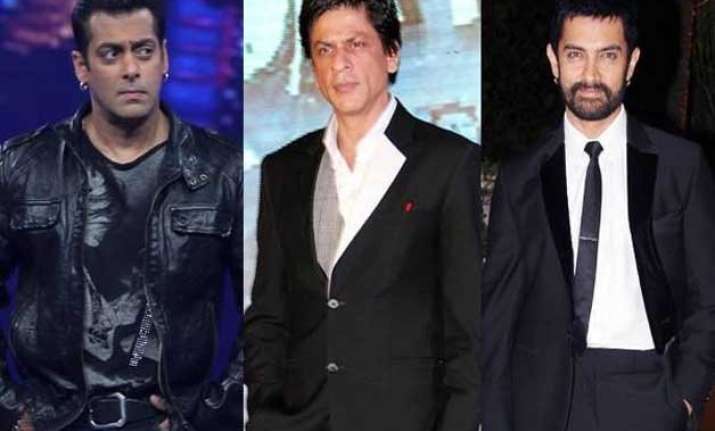 New Delhi: One desire that remains unfulfilled for Bollywood fans is to see its three pillars aka the three celebrated Khans - Shahrukh, Salman and Aamir - together in a film.
Though nobody knows when that day will come and how many crores the film will mint, it will definitely create history.
Ask Shahrukh if this day can ever happen and he has a valid reason to state why it is not possible. And the reason is such that even you would agree to it.
As quoted by a leading daily, SRK says, "It's difficult to do a three-hero film, especially when all the three heroes are leading mainstream actors. A lot of times, it gets difficult to make a film with even two smaller heroes, as both think of themselves as stars. In this case, the three of us are actually stars."
He further said that he thinks it won't be a problem as "the three of us are humble enough to understand that we are doing a film [together]".
However, he added, "We have to choose a film in which all three of us are equal. We should do [a film like] Ghostbusters (1984). That film has equal roles for all the three heroes."
When probed further whether putting such a film together would require too much of hard work, he said if required they could work on that by co-producing the film.
"But someone has to write an interesting script that we like," he added. 
He illustrated the point with an example, "Today, if I were to write [a script] for Varun (Dhawan), Ranveer (Singh) and Ranbir (Kapoor), it would be hard. Not only because they should have equal roles, but because it must do justice to them all. It's a difficult proposition to write a three-hero film, and then get three heroines, and three villains."
He said if such a film happens, that is great and even if it doesn't, that's also good.
He added, "The three of us don't exist because we should be in cinema together. Instead, we exist because we should be in cinema."
Later on he even revealed that the trio meet each other and talk a lot but added that they never speak about films.
Here, he even shared a joke, once cracked by Salman, "Guys, we three won't do a film together. We will only end up fighting. One will keep using his brains, another will finish the work quickly, and someone will not reach the sets on time."