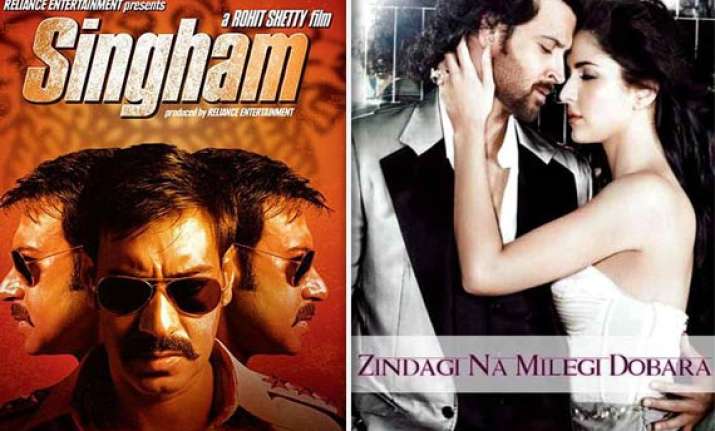 Mumbai, Aug 8: Bollywood has noted with satisfaction the super-successful run of 'Singham' and 'Zindagi Na Milegi Dobara', both of which have now crossed the  Rs 70 crore mark each and still going higher up.

This is also a good sign in the post-multiplex era that two diverse films are doing exceedingly well at the same time amongst their target audience and churning out huge moolah in return, says a media report.

So while 'Singham' has already crossed the  Rs 73 crore mark with collections mainly coming from single screens and multiplexes from the interiors, 'Zindagi Na Milegi Dobara' is a favourite amongst the urban crowds with collections to the tune of  Rs 77 crore.

This means that while 'Singham' is already a superhit, 'Zindagi Na Milegi Dobara' is a clean hit too (and not a superhit yet due to its high cost).

 With another clean week available to them, both movies are expected to finish in the range of  Rs 90 crore each before 'Bodyguard' strikes on Eid.

Now such huge numbers can comfortably wipe off the small deficit that Bollywood has suffered from with the debacle of 'Gandhi To Hitler', 'Khap' & 'Bubble Gum'.

'Gandhi To Hitler' was a badly made film and response from critics as well as zilch footfalls pretty much established that further.

'Khap' didn't even see an all-India release and disappeared from theatres within a week's time despite makers making a last moment attempt at reviving it by promoting Om Puri as a crusader of the society.

'Bubble Gum' could take solace from good reviews but footfalls still stayed on to be almost nil.

All of this meant that these three films have pretty much come and gone without getting noticed at all.