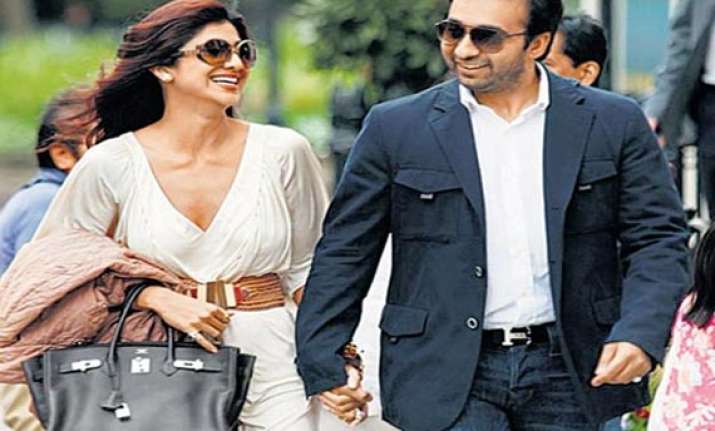 Mumbai : Bollywood star Shilpa Shetty has decided not to celebrate her birthday todayand insted perform a maha pooja at the famous Tirupati Balaji temple.
Shilpa, sources said, is said to be worried about her husband Raj Kundra getting entangled with the law over IPL betting issue, and decided to give her birthday celebrations a miss.
Meanwhile, under-fire Rajasthan Royals co-owner Raj Kundra today wished his actress wife a happy birthday and apologised for the disturbing developments in the past few days that saw the two being dragged into the IPL spot-fixing scandal.
Businessman Kundra, who is a British national, was caught in the betting net when Police claimed that he has confessed to have placed bets in IPL matches.
Writing on Shilpa's twitter page, Kundra left wishes and apologies for the actress.
"Wishing my gorgeous wife @theshilpashetty a very happy birthday, apologies for all this nonsense u have had to deal with. Truth is coming out," he wrote.
Kundra, who claims innocence, may lose his small stake in the IPL Franchise if he is found guilty of betting, the team had said yesterday.
Kundra also thanked Bollywood superstar Amitabh Bachchan for his wishes for Shilpa.
"Thank you @SrBachchan sir your message on Shilpa's birthday gives her a smile that no other message can. It always means a lot to her. :)," he wrote.
Meanwhile, Royals batsman Ajinkya Rahane also wished Shilpa on her 38th birthday.
"@TheShilpaShetty wish you many many happy returns of the day madam. May God bless you n gives you all the happiness n love," he wrote.
Shilpa Shetty is a devoted wife! After Raj Kundra confessed to betting in the IPL, followed by the confiscation of his passport, wifey Shilpa has decided to give her starry .