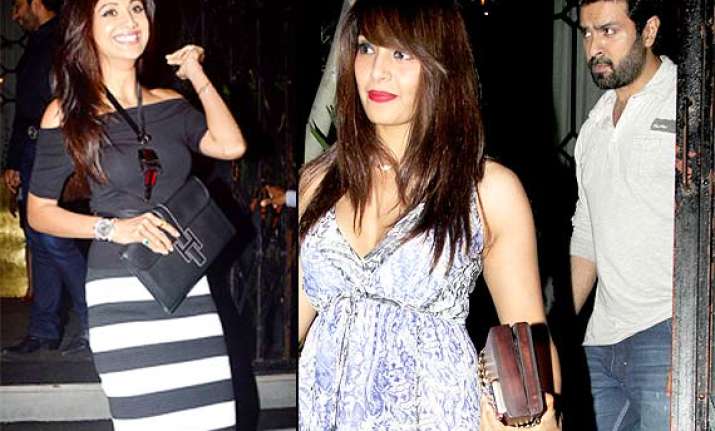 New Delhi: It was a couple's day out in its actual sense as the two gorgeous ladies of Bollywood turned to a famous eatery with their respective partners last night.
Both Bipasha Basu and Shilpa Shetty were out on a casual spree with the man in their lives and enjoyed a few healthy hours at Nido in Mumbai.
While Bipasha was elegantly dressed up in a sheer maxi dress, Shilpa opted for a much dressed up monochrome style and adorned a River Island striped pencil skirt with a figure hugging off-shoulder top.
While both the divas looked perfectly graceful and apt for their double date, Raj Kundra and Harman Baweja too matched the charm of their ladies.
Joining them at the date was a couple who rarely give a public appearance- R. Madhvan and wife Sarita Birje. Interestingly, this duo too rocked the black and white look.
Both Shilpa and Raj are busy with their newly launched gold jewellery line, Satyug Gold.
And Bipasha, who recently announced her relationship with Harman Baweja, is gearing up for the release of her upcoming, 'Creature 3D.'
On the other hand, Harman Baweja was last seen in 'Dishkiyaoon' which was produced by Shilpa and Raj, but didn't garner any positivity at the box-office.