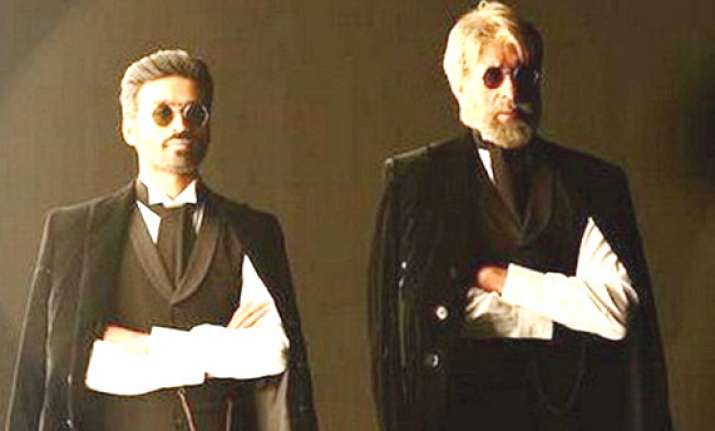 New Delhi: Amitabh Bachchan and Dhanush who will be seen in R. Balki's one of the most anticipated movies 'Shamitabh' has been constantly sharing pictures from sets.
From giving a sneak peek into their looks to tweeting while filming 'Shamitabh', the actors have done just about everything to share important information with fans. 
A picture of the cast of R. Balki's 'Shamitabh' has finally been released. While Amitabh Bachchcan sports a long grey hair and a full beard, Dhanush looks sharp in a black coat and dark glasses.
 Kamal Haasan's daughter Akshara who marks her debut with 'Shamitabh' is pictured looking pretty in a light coloured sleevless dress. 
Since, Dhanush garnered huge applause for his role in Bollywood debut 'Ranjhanaa', the viewers are expecting him to offer something interesting and different with his role in 'Shamitabh'.
R Balki has made Amitabh Bachchan experiment with very unique looks in each of his films. In 'Cheeni Kum' the actor sported salt and pepper hair and a ponytail while in 'Paa' Big B played a 12 year old boy suffering from a genetic disorder projeria.
For the film, Amitabh Bachchan is seen sporting grey messy hair, a full beard and black eyeliner. 
The 71-year-old actor will be seen in a rugged look with grey unkempt moustaches and beard. He had said in past that it has become difficult to hide the get-up of a film from paparazzi.  
 Filmmaker R Balki has also roped in his team members Ilayaraja and PC Sriram for the film's music and cinematography.
Bollywood megastar has lent his voice for this movie which is slated to hit the screens on February 6th next year.