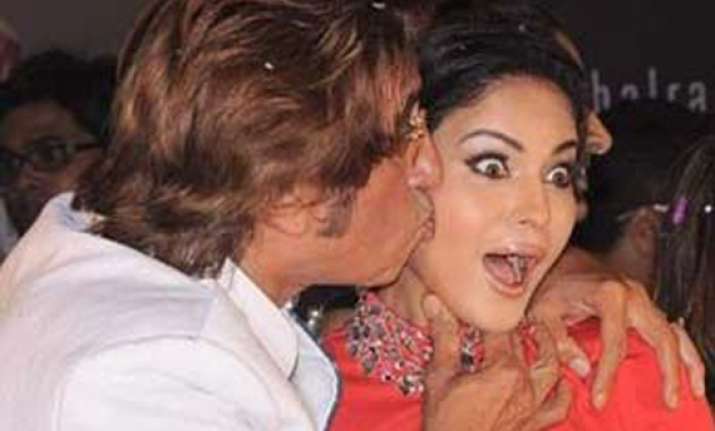 Mumbai:  Ageing villain-cum-comedian Shakti Kapoor kissed his Pakistani co-star Veena Malik at the music launch of their upcoming film Daal Mein Kuch Kaala Hai.
Veena Malik is all set to make her Bollywood debut with the movie "Daal Mein Kuch Kala Hai." At the launch were present the entire star cast of the movie. 
Veena Malik not only cut a cake to celebrate the music launch, she even performed at the event.
 Veena wrote on Twitter: "Leaving for the venue....n will rehearse to make sure my steps r perfect for the main event of DMKKH music launch tonyt...!"
Even Veena was amazed by the sudden kiss from Shakti Kapoor.
Before this in Big Boss, Shakti had fallen for Afghan model Vida, this time it's Veena whom Shakti had kissed tightly. After a butt slap to Vida,Veena  gets a kiss at her movie's music launch.