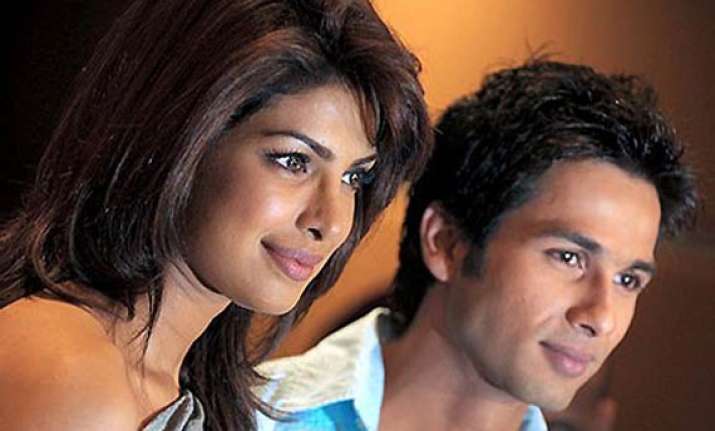 Mumbai, June 3: Bollywood stars Shahid Kapoor and Priyanka Chopra are struggling to keep up to their on-screen romantic avatars, and have even refused to rehearse together on the sets of Kunal Kohli's film.

Kunal Kohli  had signed Priyanka Chopra and Shahid Kapoor for his venture when the two were close.

Little did he know that the actors would end up splitting, that too before his film goes on the floors.

And now, that very romance Kohli had been counting on is proving to be a bit tough to handle on the sets of the film, says a media report.

While the extremely professional Kapoor and Chopra are doing their best to put up a good act of love in front of the camera,things aren't going that smooth once the camera stops rolling.

The report quoted a source: "The relationship is over. And though Kunal Kohli had full faith in Shahid and Priyanka's professionalism he was wondering what the aftermath of the breakup would be for his film.He needn't have worried.

"The pair is absolutely professional on camera. It is off-camera that the aloofness between the two becomes easily discernible."

Apparently Priyanka and Shahid don't even hold basic conversations between shots.

"The interaction between them is minimal, almost nil. Once they give their shots they are strangers to one another.

"Considering the film has essentially two characters-Shahid and Priyanka-running through a gamut of emotions and spectrum of characters, the effort required to share a mutual passion on screen is a task,"adds the source.

In fact,Shahid and Priyanka are not even rehearsing together.

"The passion on screen seems to almost mock the lack of feeling between the two off-cameras," remarks the source.