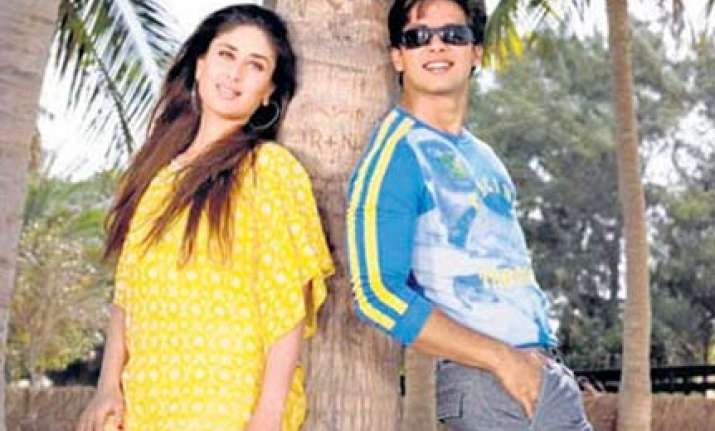 Bollywood Producer Boney Kapoor is in a bid. He had casted Shahid Kapur and Kareena Kapoor in his film Milenge Milenge, when the two were the best of friends.
Now, the two are not only refusing to shoot a music video together but also going to promote the film separately.
Milenge Milenge will be the duo's first release together after their break-up more than two years ago. The song Sab Kuch Khatam Ho Kar Bhi... is almost a reflection of their real-life break up.
Shahid and Kareena have completed their dubbing, but there's another problem. Initially, both stars had refused to shoot for the promo but after Boney and music director Himesh Reshammiya recorded a new song in keeping with the times, Shahid and Kareena were very excited.
The only glitch is that though both have agreed to shoot for it their condition is that they wouldn't shoot for it together. In fact, though both Shahid and Kareena have seen the rushes, they have told Boney that they won't also publicise the film together. Now  Boney is in a dilemma."
Boney Kapoor says, "Yes we are shooting the song Sab Kuch Khatama with Shahid and Kareena separately.
First we will shoot with Shahid and then with Kareena. But Shahid and Kareena haven't told me anything or stipulated any conditions. The first lines of the song are such that we can't have the two of them singing together as it shows that they have split up and gone their separate ways on screen (like they have done in reality)."
Apparently, Shahid and Bebo have also told Boney that they will publicise Milenge Milenge separately. "I haven't heard anything like that," says Boney and adds, "In fact, when Kareena finished her dubbing she said she would be part of the publicity. Shahid has also assured me of his cooperation. We will shoot the music video in March and then work out the strategy as the film releases on July 2."
Kareena Kapoor says, "I haven't been approached by Boneyji to do the song. If I am asked to do so, I will shoot the song with Shahid. I am cool with working with him. I am a professional and will do whatever my director decides and feels is best for the film."
Will she promote the film also with Shahid? Kareena retorts, "I will do whatever I can for the film and whatever Boneyji decides. It's completely his call."
Shahid Kapur remained unavailable for comment, says the media report.