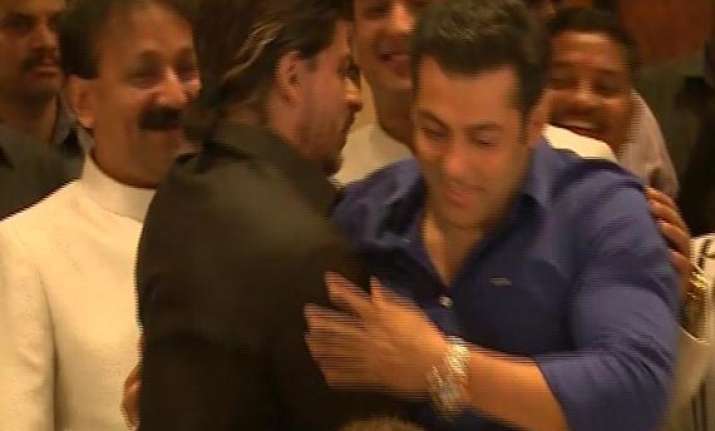 New Delhi: Today, it was solely a recreation of last year epic scene where Shah Rukh Khan and Salman Khan ended their five-year old rivalry at Congress MLA Baba Siddiqui's Iftaar party in Mumbai.
The same was the venue and similar was the surroundings but what differed the two bashes was the comfort level which was escalated this time between these two superstar Shah Rukh Khan and Salman Khan.
Shah Rukh was already spotted seated while Salman entered later and shook hands with all present there. While last year Salman took the opportunity to approach King Khan for a warm hug, Today  it was latter coming close to Dabangg Khan with a smiling face.
Baba Siddiqui realising the importance of the moment took the two former rivals on his both sides and posed for the shutterbugs.
Watching the entire episode, one wouldn't mind terming it 'Shah Rukh-Salman Khan hug at Baba Siddiqui's Iftar bash Part-2'.
Ever since their five year old rivalry came to an end, Salman and Shah Rukh aren't hesitant in showing respect to each other at numerous occasion.
Earlier this year, both the superstars shared a warm hug at Star Guild Awards held in Mumbai.
And tonight, the reformation of the last year's Iftar bash shows that they have moved on in their life and have no grudges for each other.
We wish this scene could be recreated again and again.