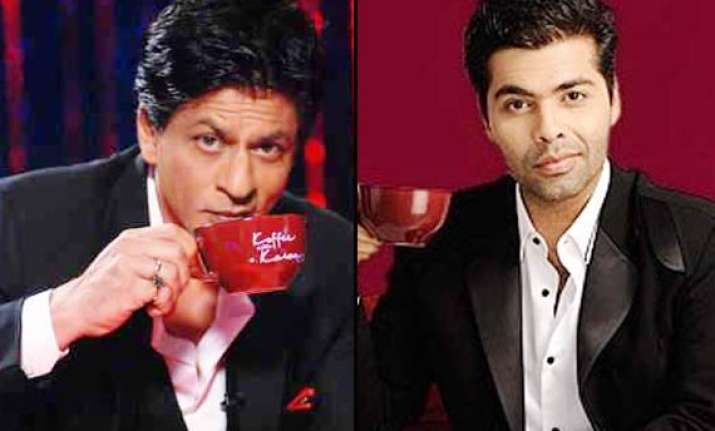 Salman Khan rejoiced the premiere episode of Karan Johar's famous chat show, 'Koffee With Karan;' now the fans are waiting to see King Khan, Shah Rukh Khan. But the unfortunate buzz is that this season, Shah Rukh would not be able to grace the show.
Yes, his fans might not be happy with this news, but 'Koffee With Karan Season 4' would not witness the appearance of one of the closest buddies of Karan Johar, Shah Rukh Khan on it.
Shah Rukh, who has been regular with his appearances on the popular chat show is so far confirmed that he won't be a part of the show for this current season. In season one, the actor graced the premiere episode with Kajol and in season two, he appeared with both Kajol and Rani Mukerjee while it was his solo appearance in season three of 'Koffee With Karan.'
Hence it would be for the first time, that the whole series of Karan's chat show would get consummate without having Shah Rukh Khan on that 'Koffee couch'. The reason stated behind the actor's absence is his non availability of time to shoot the episode.
'Koffee With Karan' is going to conclude with only two episodes remained to get telecast. And while the coming episode would see
Alia Bhatt
and
Parineeti Chopra
, the last one would have hot
Sunny Leone
and Ekta Kapoor on the guest list.
The rumours regarding a bitter relationship between Karan and Shah Rukh are making grounds as a reason for Shah Rukh's non appearance on the show. Previously too, the buddy-duo was reported to be facing a bad friendship phase and was even believed to be not in talking terms with each other.
Though Karan denied the rumours and said, "You can never take away the fact that Shah Rukh and I share a twenty year long professional and personal history. It's sad that I have to explain my immense closeness to him on a daily basis."
Well, we wish everything to be fine between Karan and Shah Rukh, still we wonder is Shah Rukh's time management so big a problem for his such a close buddy!