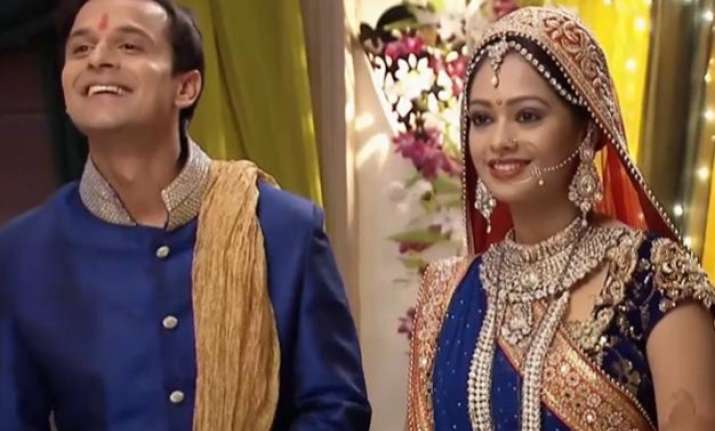 New Delhi: Marriage sequences seem to have become an integral part of TV shows nowadays. As soon as the wedding fest ends in one show, other house starts preparing for the amalgamation of two souls.
Popular TV show Satrangi Sasural is also going to witness a dramatic and action-packed marriage sequence.
Girish and Jahanvi are entering into the nuptial bond but bride's brother points out his pistol to stop the marriage.
Girish, brother of leading lady Aarushi, is marrying Jahanvi. The girl has come from another city and has taken shelter in Girish's house and the duo develops love for each other.
Despite knowing that Jahanvi is pregnant, Girish is ready to tie the knot with her.
Aarushi also knows about Jahanvi's secret but both brother and sister didn't reveal it to their parents before the marriage.
However, Kasturi, the step mother of Aarushi and Girish, gets to know about Jahanvi's pregnancy in the mandap. The shocking reality makes her very upset and she leaves the mandap instantly.
When Jahanvi's parents and brother Jagdish get the news of their daughter's marriage, they land up at the wedding venue and try to stop the function.  
Jagdish even takes out his pistol to somehow stop Girish and Jahanvi from taking the wedding vows.  
Seeing the critical situation, Aarushi comes forward and tries to pacify the environment and calms down her mother Kasturi.
Aarushi's husband Vihaan is also attending the marriage with his maa, tai-maa, chachi-maa, bhua-maa and mini-maa.
All the ladies support their bahu Aarushi so that Girish and Jahanvi can marry each other.
But, will Girish and Jahanvi get hitched? What will happen next?
Visit this place for more telly updates.