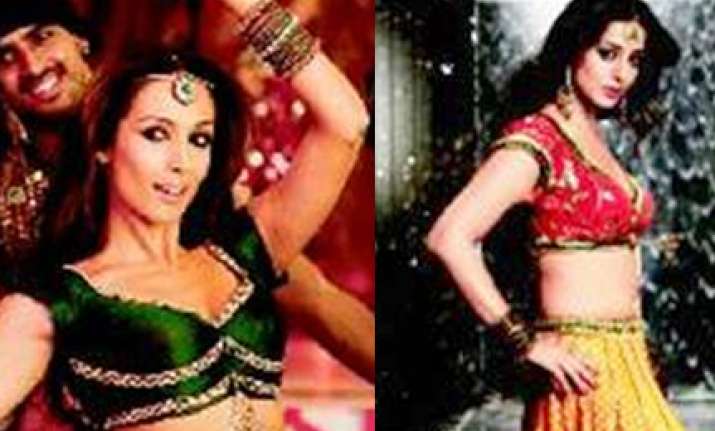 Awestruck with the massive success of the item song Munni Badnaam Hui in Salman Khan's film Dabangg,  actor Sanjay Dutt has insisted on a catchy item number on the lines of Munni for his forthcoming film, Knockout, says a media report.
The Munni Badnaam Hui (MBH) chartbuster from Dabangg has increased the demand for an item number in films currently on the floor.  
Sanjay Dutt  is very impressed with the Munni song and he wants a rocking item number for Knock Out. He personally spoke to lyricist Sameer to pen a catchy ditty, which would surpass Munni in popularity.
Lyricist Sameer says: "Yes I had met Sanju at a party and he called me and told me that he wants a rocking number which would be a fitting reply to Munni Badnaam Hui. Thankfully,I had some lyrics written for a song which were - Gangubai Pe Ayio Jawani Jab Se, Sare Launde Hairaan Pareshan Tab Se.  
"He loved the lyrics and told me to go ahead and compose it immediately. At that very moment, I called composer Sanjeev Darshan and told him that we have to do this song and deliver in a day.  
"We went to Nysa Studios, booked it for two days and started working. We made two versions - one is an Indian version called Desi Gangu and another is Western version. The next day we went to Mehboob and made him listen to the tunes.
"Sanju loved both the versions and asked us to record both. We did that and now the producer Sohail Maklai has decided to shoot both the versions. I personally think that the song has the potential to be a huge hit if promoted well. We have our fingers crossed. Turns out that Sanjay's  Munni in Knockout is Mahi Gill, who incidentally was in Dabangg.