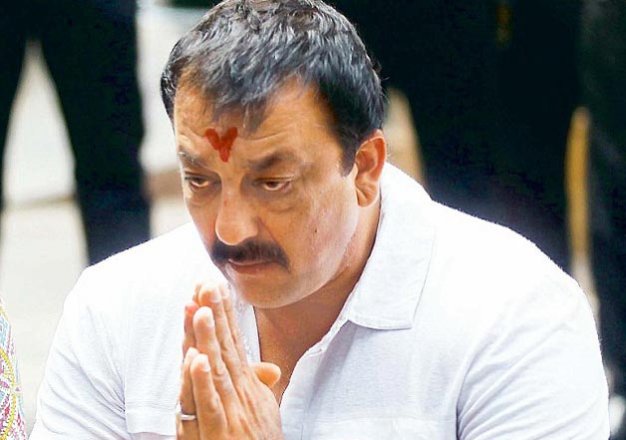 New Delhi: 56-year old Sanjay Dutt's life journey has no dearth of content for a Bollywood flick. Perhaps, this is why his close friend filmmaker Rajkumar Hirani has decided he will make a biopic on him. Munnabhai, as he is popularly called, will finally be able to bury all his skeletons from the past, as he walks out of Yerwada prison today.
Born to veteran actors Sunil Dutt and Nargis on 29th July 1959, Sanjay was lambasted for being a wayward son. Though, entering into the glitzy tinsel vile was a cakewalk for him, surviving in it wasn't. Born with a sliver spoon, Dutt's preliminary acting years were surrounded by controversies with many around him complaining of his star-kid tantrums.
Despite him running into a gamut of controversies, almost everyone close to Sanjay has agreed that the boy with the golden heart flipped after his mother Nargis's death. Nargis fell prey to cancer only five days before his first release, Rocky in 1981. It was blockbuster but the actor whose debut looked like a promising chose a dark to get over the pain of his mother's loss. He became a drug addict and was sent to rehabilitation in United States by father Sunil. Speaking about those dark days he had once said, "I wasn't on hard drugs, but I was quite deep into them.  What I started out of sheer curiosity and style became a serious addiction with me."
On returning from United States, many predicted his Bollywood career died. But, Sanju Baba, as a well established truth isn't known to be the one who gives up. He worked towards rebuilding his career and then Khalnayak happened in 1993.
Along with Khalnayak the serial blasts of Mumbai too- an incident which changed his life.
Three weeks prior to the release of Khalnayak, he was arrested for possessing arms illegally. He was found guilty for accepting a delivery of weapons at his house from Abu Salem and co-accused Riyaz Siddiqui. He had a 9mm pistol and AK-56 rifle with him, which his lawyers claimed he kept with him to protect his sisters and family.
On April 19, 1993 he was arrested and released on bail in October 16, 1995. Between 1993 and 1995 and for a few weeks again in 2007, he was in jail for almost 18 months. It was being said that his father Congress MP Sunil Dutt sought help from Shiv Sena leader Balasaheb Thackrey for his release.
It was in United States that he met actor Richa Sharma and married her in 1987. When the couple welcomed daughter Trishala in their lives in 1988, Sanjay was on cloud nine. Alas his bliss was short lived as Richa was diagnosed with brain tumour two years later. She passed away in 1996, leaving Sanjay with a bitter courtroom battle with his in-laws. Misfortunes made way through his life after he lost the custody battle of his first born and most of his movies bombed.
In 2006, the TADA court acquitted him in all cases related to Mumbai's serial blasts, but found him guilty under Arms Act. In 2007, the court sentenced him to six years rigorous imprisonment.
It was in 2013, that the Supreme Court took a tough stand on his case and asked him to surrender to authorities to finish his remaining three and a half years of sentence. The SC had reduced his jail term from six to five years.
On May 22nd, 2013 he was taken to Yerwada Jail and was out on parole till December 21, 2013. It was extended until March 2014 raising serious concerns about the parole laws. Sanjay Dutt comes out of jail before almost eight months or 256 days before the end of his term on account of his good behaviour.
Much has happened in Sanjay's life since 1982. Tina Munim who is now Tina Ambani, left him for more promising pastures, Richa Sharma died of brain tumour, his second wife Rhea Pillai called quits with him the same year (2005) his father Sunil Dutt died, he married Manyata and became a father of twins at the age of 50.
For his entire bad boy image, everyone close to the Khalnayak has always asserted that he is anything close to his famous screen name. And fans would still hope and pray that he finds his peace, happiness and light at the end of the otherwise joyless tunnel that spanned Sanjay's life in the last five decades and a half.