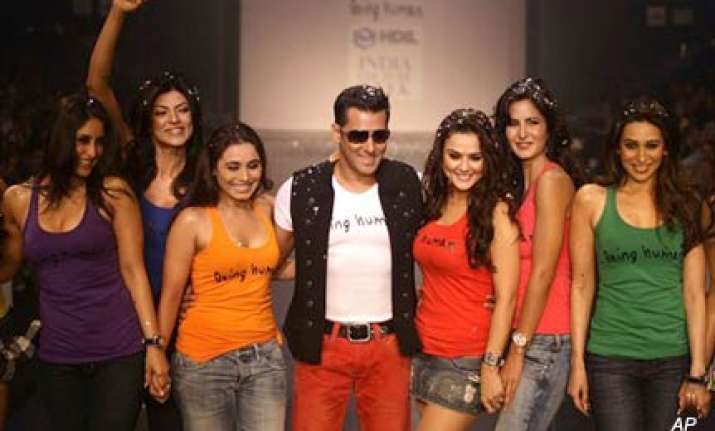 Bollywood star Salman Khan on Saturday night walked the ramp with eight Bollywood actresses attired in period dress at the HDIL Couture Fashion Week in Mumbai. The show was choreographed  by Anahita Shroff Adjania.
Preity Zinta walked the ramp representing the 1920s, while
Katrina Kaif
represented the olde Thirties.
Rani Mukherjee repesented the 1940s, while hottie
Bipasha Basu
represented the 1950s. Karishma Kapoor walked the ramp showcasing the 1960s, while former Miss Universe
Sushmita Sen
represented the Seventies.
Priyanka Chopra
walked the ramp wearing the dress of the Eighties as Kareena Kapoor represented the Nineties.
Salman Khan came in to represent the 2000s.All the heroines walked the ramp weaing Being Human singlet T Shirts. 
Among the spectators were
Saif Ali Khan
Mallika Sherawat and Sonakshi Sinha.  Salman gave a chance to children from the reality show India Has Got Talent on his show,. 
Priyanka Chopra momentarily was imbalanced during her walk on the ramp.  
Earlier in the evening, Salman launched limited edition watches for his NGO Being Human.  
A party was held late at night attended by Priyanka Chopra, Preity Zinta, Sonakshi Sinha,
Malaika Arora
Khan, Amrita Arora and Sohail Khan with Salman the notable absentee.